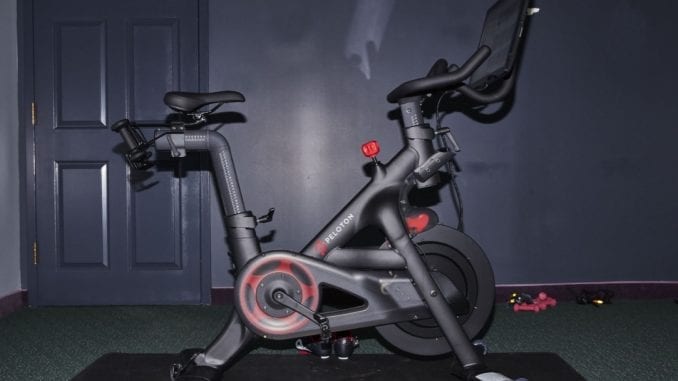 Peloton as a COVID Symbol
Ask anyone 10 years ago whether their home exercise equipment would be considered a status symbol and they'd probably just shrug their shoulders.  Fast-forward to 2020 and it seems so frikkin obvious.
Some businesses are thriving in the pandemic and Peloton is one of them. In a time when a trip to the gym is a non-starter, spin classes from the comfort of your home are a huge hit. It's not just about virtual spin classes. There's the bikes, the new treadmill, the app, apparel and accessories. In a short span of time, Peloton has become a fitness brand that says something about you –
I can afford to workout at home in style.
When Peloton first went public in September of 2019, it had 500,000 paying subscribers and 1.4 million community members. Those numbers have ballooned to 3.1 million members and over a million subscribers.
Peloton is developing an almost cultlike following. Celebrities like Leonardo DiCaprio, Usain Bolt, and David Beckham have all hopped on the spinning bandwagon. Peloton coaches like Matt Wilpers and Robin Arzon have become social media celebrities in their own right. Arzon has over a million followers.
Big Profit for Peloton
Peloton is not cheap. The original Peloton bike costs around $2,000, but you can apply for financing and pay around $50 bucks a month. The app gives you thousands of virtual workout classes across 10 different fitness disciplines. If you don't have a bike or treadmill, you can access the app with a digital membership that costs $12.99 a month.
Related: British Experts Explain Why All Men Should Bike
It's hard to imagine people shelling out that much cash during a pandemic, but the Peloton stock is going through the roof. In September, their market value hit $25 billion dollars. That's more than Delta Air Lines and Hilton hotels. Sales of Peloton home fitness equipment and memberships are set to hit $3.5 billion by 2021.
https://www.instagram.com/p/CGN-RzfpwS4/?igshid=tfu0ap3z1qkb
But why?
Peloton's Popularity Explained
Peloton users are biking or using their treadmills at home, but the allure of the product is deeply seated in the community aspect of gym fitness and spinning classes. In fact, the company founder John Foley began Peloton when he couldn't find more time to enjoy spinning classes at his favorite gym.
Related: Is a Treadmill the Best Piece of Equipment?
That's exactly what's been missing since the COVID-19 virus ravaged the fitness industry in 2020. People have been forced to workout at home, but honestly, they lack the creativity and discipline to meet their fitness goals.
That's where Peloton's virtual classes come into the picture. You strap your feet onto the pedals of a state-of-the-art fitness bike and get a spin class on the touchscreen monitor. There's plenty of variety and community spirit because you know that there are thousands of people participating with you.
Finally, Peloton has become cool. It's a status symbol to own one, especially in a time of economic downturn. Celebrities and influencers are snapping selfies on Peloton bikes. So, it's bye-bye gratuitous gym flex selfie and hello to the post-spin class glow selfie with the Peloton logo.
The more popular Peloton becomes with popular people, the more popular and profitable Peloton gets.
The Future of Peloton
In December, Peloton will launch a new product – an in-home treadmill that costs a whopping $4,000 for the high-end version. You can join the waiting list by visiting Peloton online. That's right, there's already a waiting list.
In a virtual investor press meeting, founder John Foley stated that "100 million subscribers, we believe is a reasonable goal. There's close to 200 million gym-goers in the world. That's 200 million people paying hard money, month after month, to access what we believe to be inferior fitness equipment in an inferior location."
Every gym owner in America should be shaking in their lifting shoes. Peloton isn't showing any signs of slowing down. Traditional gyms will have to do more than simply open their doors again to compete. Peloton offers a novel experience wrapped in convenience that is fueled by big budget branding.
You know you're doing well when competitors start to sprout seemingly out of nowhere. Peloton is fending off their market dominance from upstarts like Apex and Echelon. Plus, Apple is out to take a chunk out of their profits with its own fitness program tied into the new Apple Watch.
Related: 5 Great Apps and Sites for Solo Exercising
Is Peloton A Hype Bubble or Meant to Last?
Obviously, Peloton's founder John Foley is in it for the long haul, but are consumers? Will they keep pedaling the gears of their wallets after the coronavirus pandemic is over? Stock analysts are saying "yes".
Nobody knows what the future may bring, but if Peloton can swing out of the pandemic with enough brand hype to sustain flight, then you'll be seeing a lot more Peloton selfies in the future.
Have you joined the Peloton community? We'd love to know what you think of their fitness classes.