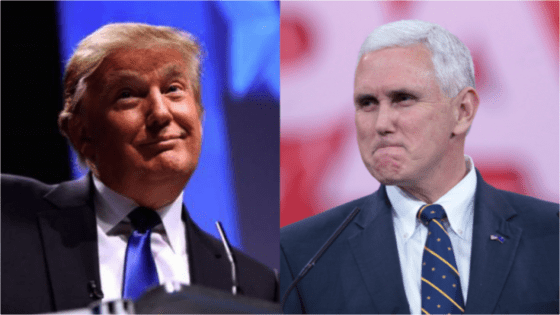 Pence Wants To Hand All Gay People
News is hitting of Donald Trump offhandedly making a joke that has terrifying implications for the gay community.
A Trump campaign staff member talked to The New Yorker about a joke that he overheard Trump say.
Apparently, after stopping by Mike Pence's office some people met up with Donald Trump. Trump, being the ever wonderful conversationalist that he is, decided to make some jokes at Pence's mistake like, "Did Pence make you pray?"
It seems that Pence's religious fever is a hot joking topic for Trump. But things get worse when Trump transitions to Pence's views on abortion and homosexuality.
As the New Yorker tells the story:
"During a meeting with a legal scholar, Trump belittled Pence's determination to overturn Roe v. Wade. The legal scholar had said that, if the Supreme Court did so, many states would likely legalize abortion on their own. "You see?" Trump asked Pence. "You've wasted all this time and energy on it, and it's not going to end abortion anyway." When the conversation turned to gay rights, Trump motioned toward Pence and joked, "Don't ask that guy—he wants to hang them all!"
Mike Pence has been known to be greatly against the LGBTQ community. When he was governor of Indiana, Pence tried to pass a law banning gay marriage. In addition, he supported an amendment in 2006 that would have defined marriage as being between a man and a woman and blocked any attempt at marriage equality.
His actions and view towards the LGBTQ community is what led to the massive "queer dance party" that was held outside his Washington home back in January.
This joke shows nothing good can come from the White House concerning LGBTQ people. The president of the United States made a joke about hanging his own people and thus unconsciously showed his approval of the attack against LGBTQ people.
Meanwhile, this spotlights the utter hate that Pence has for us. Not only would it be a disaster if he were to take ownership of the oval office if Trump were to be impeached, but it wouldn't surprise me if he's the one pulling the strings involving all of these "religious freedom" and anti-LGBTQ laws.