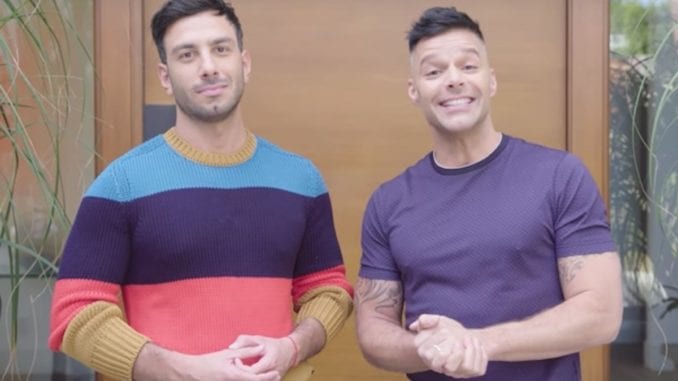 Martin and Yusef Plus Four
Congratulations to the happy family.
Ricky Martin and Jwan Yosef have welcomed their fourth child, a son named Renn Martin-Yosef, into the family.
To announce the arrival of his new son, Ricky Martin posted a picture of himself, his husband, and his baby on Instagram. Then as a caption to the picture, Martin wrote in Spanish, "Our son Renn Martin-Yosef was born."
Again, Renn is now the fourth child in the growing family. He joins older brothers Matteo and Valentino, 11-year-old twins, and 10-month-old Lucia.
The Martin-Yosef family has been growing exponentially within the past year. Just this past New Year's Eve, Martin announced that Lucia had joined the family.
"We are beyond happy to announce that we have become parents to a beautiful and healthy baby girl, Lucia Martin-Yosef," Ricky wrote on Instagram. "It has been a special time for us and we cant wait to see where this stellar baby will take us. Both her beautiful brothers and me and Jwan have fallen in love with Lucia."
Then before that, the couple got married in January of 2018 after announcing their engagement on The Ellen DeGeneres Show back in November of 2016. The family of four, at the time, then revealed an insider look of their Beverly Hills home for Architectural Digest.
Ricky Martin on Parenting
In a recent dinner with the Human Rights Campaign in Washington, DC, Martin shared that he is a fan of big families. So, it makes sense that the Martin-Yosef family has expanded so quickly. But what are Martin's other thoughts on family and parenting?
In a post for his blog Piccolo Universe (yes, Martin also has a blog, as if he didn't already have enough going on) Ricky Martin shared five tips on parenting. First, Marin shared that parents need to actively listen to their children's wants and desires.
"The keyword is 'actively'," wrote Martin. "This is a challenge for all of us. The truth is with our phones, tablets, and all other electronics that 'make our lives easier' it isn't difficult to be constantly distracted. We often forget that when our children come to us, it is because they want to communicate something that is important to them."
Martin's second lesson is to encourage children to dream big and believe in themselves.
"These are those ideas that were implanted in us at a young age. 'No you can't because…', 'Life is practical, dreaming is not…', 'I am not lucky…'. Remind your children each day that the sky is the limit."
Martin then preaches for a balance between respecting quiet time for kids and making sure they have time to be loud and play. It's even better when the parents get their hands dirty and play with their kids. Make sure to have fun and act like a kid when appropriate, because it teaches kids the importance of youth and enjoying life.
But the last tip comes back around to the first. Make sure that you listen out to what your kids are saying because your kids can be the best teachers. Parenting is different depending on the parent, the kid, and the day. So be open to learning what it means to be a parent to your specific kid. And enjoy the journey every step of the day.
Ricky Martin sure has.