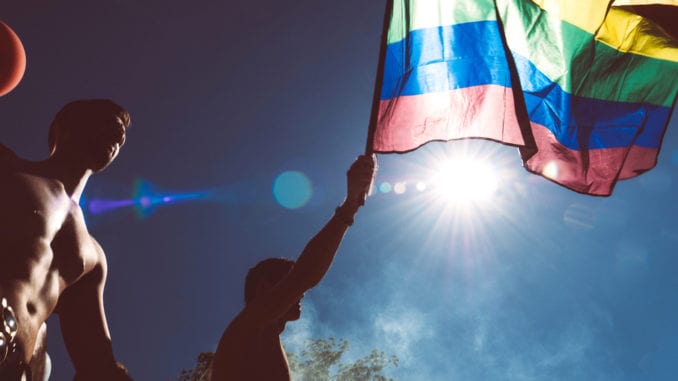 Best Pride Swag Picks
With Pride Month on the horizon, it's time to start thinking about what you're going to do, where you're going to go, and what you're going to wear. This is a special occasion to show off your unique personality and what you love about the LGBTQ+ community.
Pride Month is for everyone who loves and appreciates members of the LGBTQ+ community. It's a celebration of acceptance of the diversity of human beings and an acknowledgement that LGBTQ+ individuals are valued and respected.
June is Pride Month, and it can be a lot of fun, too. It's one of those times when you can truly come out of your shell and celebrate by attending festivals, parades and special events. You never know who you might meet or reconnect with when you set your heart to find common ground.
This year is especially amazing because we've been shut in for the better part of a year. As you come out this summer, you might want to update your Pride swag with some of these must-have pride items.
Show Your Pride with These LGBTG+ Themed Apparel, Gifts and Accessories
UNO Pride Deck
Who doesn't love a good game of UNO? Now, there's even more to love with this limited-edition Pride card deck. Mattel recently partnered with non-profit It Gets Better to highlight their commitment to unity and inclusiveness.
The Pride deck works just like the original with 112 cards but has a special rainbow themed cover and some Pride designs sprinkled throughout the pack. Mattel has donated $50,000 to the It Gets Better Project to support their mission of uplifting and empowering the LGBTQ+ community.
You can find the special UNO pride deck on Amazon for around six dollars.
Related: 20 Celebrities Who Came Out in 2020
Pride Edition Apple Watch
Apple and CEO Tim Cook are spreading the love with a new rainbow Apple watch. It has a stunning rainbow woven band loop that you can find in various sizes. There are 12 different lengths in total so you're sure to find one that matches your wrist.
The #AppleWatch #Pride Edition Braided Solo Loop and Pride Edition #Nike Sport Loop launch on May 25 with new watch faces. https://t.co/xLRfjsaxyR pic.twitter.com/VFKSLn7t7O

— AppleInsider (@appleinsider) May 17, 2021
The new watch face has a rainbow animation that echoes the rainbow loops. It activates whenever you rotate the crown of the Apple watch. It's definitely a statement timepiece that you can wear all year round. You can get it online via Apple.com and in Apple Stores from May 25. It costs about a hundred dollars.
Fun and Loud Tank Tops from Tipsy Elves
Tipsy Elves is a fashion brand that isn't afraid to raise eyebrows and turn heads. If you're planning to hit up a festival or parade, then you've got to get yourself one of their T-shirts or tank tops. They're made of a super comfy poly cotton blend and rock well with swimming trunks or super short shorts.
A couple of my favorite tanks have playful phrases like "Mr. Steal Yo Dad" and "Sounds Gay I'm In". These Fun and Loud Tank Tops are all about having fun. So, create some smiles when you're out and about, but you do you, boo. (That's also from one of the tank tops.)
These fashion items are available in a wide variety of sizes and prints on Amazon. The price is range is between 20 and 30 dollars.
Related: Best LGBTQ Holiday Gifts
Distressed Rainbow Flag Face Masks
Ugh, I know, face coverings were so 2020. However, you might still need one depending on where you live and where you're planning to go. If you want to travel or hangout in steamy, hot, closed-in spaces then you might still need to have a face covering on deck.
That doesn't mean it needs to be hideous though. Drop the surgical mask and pick up one of these versatile microfiber polyester rainbow coverings. They can be worn as a face mask, bandana, headband, balaclava, beanie, wristband, hairband, neck gaiter, you name it.
They come in three different styles and only cost about 10 bucks on Amazon.
Calvin Klein Pride Edition Tank Tops
Calvin Klein is no stranger to the LGBTQ+ community. From pink jockstraps to rainbow T-shirts, you can always find a way to represent wearing CK. With the temperature going up for summer, you can't go wrong in Calvin Klein tank top with rainbow logo.
It comes in both white and black. It's 100% cotton and machine washable. You can pair with jeans, swimming trunks or the matching pajama trunks. There are plenty of Calvin Klein pride items to be found, but this particular tank top retails on Amazon for about $30 dollars.
Related: Gay Pride Has Become Way Too Straight For Me
Show Your Style with Pride
Be sure to enjoy Pride Month safely and maybe one of these items will help you create memorable moments. No matter where you are on the spectrum, where you come from or what color, letter, or pronouns you choose, just remember that you are special.
Show Your Style with Pride.