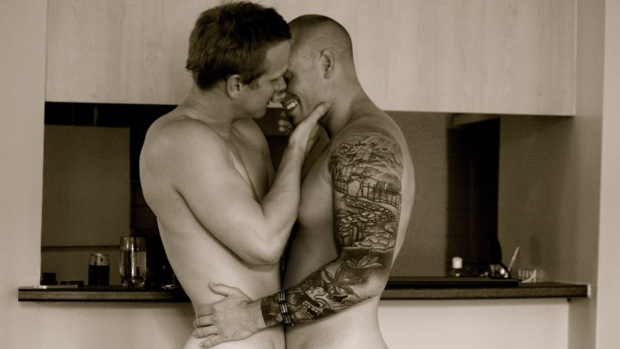 Dad says his child was "embarrassed"
A Canadian school board has decided to cancel several gay-affirming workshops after a parent got upset about the images being shown to students.
The non-profit group, Prima Danse, had previously given two of four planned presentations. But after a parent made serious noise about the content of the workshops, Sherbrooke Regional School Board (CSRS) decided to ax their contract.
In one of the workshops, sixth-grade students were shown a photo of former Montreal Alouette safety Étienne Boulay and former Montreal Impact player David Testo embracing one another.
Boulay is straight, while Testo is gay is gay.
On top of that, the picture itself was part of the exhibition Imaginary Couples, by photographer Olivier Ciappa.
"The father, that night, called other parents, called the school board, and went in-person in the morning to speak with the teacher in question and tell them in-person everything that was on his mind," said Katrina Journeau, director of Prima Danse, which holds dance-oriented workshops on social issues," reports the CBC.
Apparently, the dad who got the presentations nixed shared that his child was "embarrassed" upon seeing the picture of the couple embracing.
This same father also told Prima Danse's Journeau: "Students in the sixth grade shouldn't necessarily need to hear about homosexuality."
The workshop has been given over 50-times and Prima Danse said this is the first instance where someone has complained. Two cabinet members in Quebec are asking the school board to revisit their decision.
More: Gay porn star gets 9-years prison for steroids
Families Minister Luc Fortin said: "It's part of reality and I think it's quite legitimate for those kids to be aware of issues around homophobia."
And;
"These questions have to be discussed with young people. It all depends on the moment, the way it's done," Education Minister Sébastien Proulx said.
The school board has said they might reconsider if Prima Danse makes changes to the content.
Next year, sex education will be a mandatory part of Quebec elementary and high school curriculums.
Vanessa Forgue, a sexologist interviewed by CBC thinks sixth-grade is not too early to talk with young people about same sex relationships. She said:
"By grade six for example, what would be relevant to address would be the awakening in love, the sexual awakening, Can I fall in love with a girl, with a boy?"
h/t: Gay Star News
Main image credit:
David Testo and Etienne Boulauy embrace in Imaginary Couples exhibition, by Olivier Ciappo