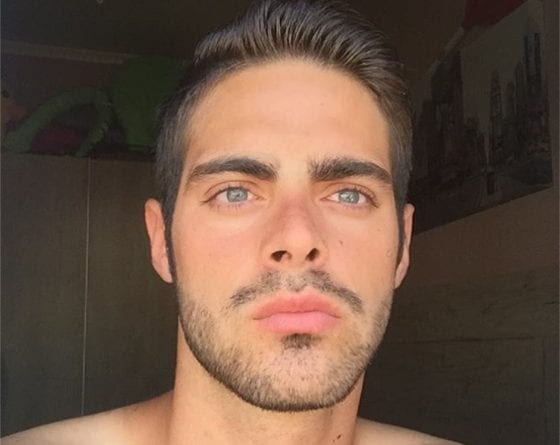 Admits he's scared but will continue
Twenty-one-year old Jesus Tomillero is Spain's first openly gay football (soccer) referee. Sadly, he' been receiving a series of homophobic driven death threats after deciding to return to the game nearly five months quitting.
On Saturday, Tomillero was refereeing a game between Atlético Zabal and CD Lasalle in Andalusía's second division when a homophobic supporter of Lasalle said to him, "get off for being gay" in response to a penalty he gave to Zebal.
Related: Gay high school student told: "Just Die" by football players
Officials stopped the game and the man was taken away but not before he shouted, "You f-ingg faggot" to the young referee.
After the match – which was only his second since returning since leaving in May – Tomillero began receiving death threats on social media.
An example of the hate filled attacks include: "You son of a bitch. You messed with the club. We'll kill you with Aids, you faggot," read one.
In another message, which included graphics of a handgun and bullets, the following was posted: "Not long left to live, faggot."
Said Timillero to The Guardian, "I go the first one about three o'clock yesterday afternoon," he shared with the Guardian. "It said: 'Reporting this was a mistake, Jesús. The boss has put a price on your head.' There was a picture of a gun and a car and it said: 'Get ready for what's coming, faggot.'"
The young referee shares he is stunned by the abuse. "I had a fit of nerves and didn't know what to do. But we got into a taxi and went to the police. They're investigating the case, not just here but all over Spain. There are police officers outside my house 24 hours a day, but I'm still afraid and I don't know what could happen."
Even though he is afraid, he's vowed not to stop refereeing. "I'm going to keep on doing what I like doing, whatever it costs," he stated. "But I am really, really scared."
Tomillero, who officially came out last year, quit in May because the abuse had become unbearable. The straw that broke the camel's back happened when a person from the stands yelled: "That's that poof who was on the telly … You can stick the goal up your arse, you f-king poof."
More humiliating was the laughter that ensued by others attending the game, shared Tomillero with The Guardian at the time.
We encourage you to check out his Instagram page. This young man seems really nice and isn't afraid to show who he is – or the person he loves – to the world.
Spain became the third European country to legalize same sex marriage in 2005.
Three years ago, a survey was conducted that indicated Spain was the most embracing country in Europe regarding homosexuality, with nearly 88% of respondents affirming same sex acceptance.
However, homophobia still exists. According to a study conducted by an Equality Rights group, the Madrid region sees a homophobic attack every two days, on average.
h/t: The Guardian
—
By: Brian Hollywood