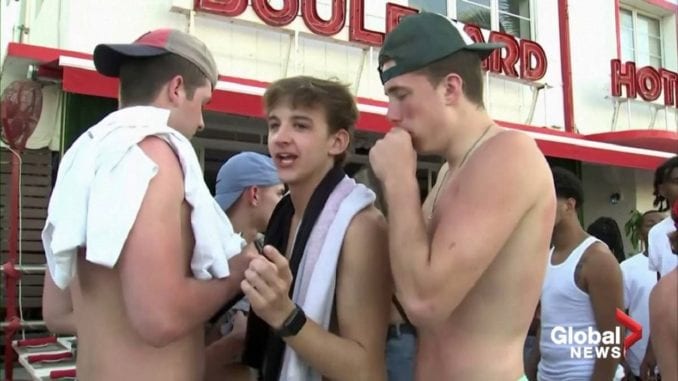 Turns out, all that partying wasn't the best idea. Who'd have thought?
Last week, Now This went viral for sharing a video of college students parting on Florida beaches. At the time, Donald Trump had warned U.S. citizens from gathering in groups larger than 10. Unfortunately, that didn't stop a lot of high school and college students from gathering to drink and party last week. This then led to reporters covering the situation and interviewing some of the spring breakers.
"If I get corona, I get corona. At the end of the day, I'm not gonna let it stop me from partying," said spring breaker Brady Sluder in the video. "I've been waiting, we've been waiting for Miami spring break for a while. About two months we've had this trip planned, two, three months, and we're just out here to have a good time."
Again, health officials were warning against large gathers like the spring breakers in Florida.
"Is it really worthwhile to do all of this social distancing and handwashing? The answer is yes," CBS News chief medical correspondent Dr. Jon LaPook said on "CBS This Morning" earlier this month, wrote Wink News. "Normally, right now — without any measures — the epidemic might go up [sharply] and go down. That peak number of cases could overload the system and that's what people are worried about."
Possibly the reason that young people like Sluder aren't taking the coronavirus seriously is the belief that they won't be affected by the virus. Unfortunately for them, that is very untrue. While the elderly and immune-deficient are the most at risk of death, young people are still at risk of getting seriously ill. In fact, almost one-third of confirmed cases in the U.S. and 20% of those hospitalized are aged 20 to 44, according to the CDC last week.
As an example of that, we're already hearing news of COVID-19 diagnoses after that controversial spring break video. The University of Tampa announced on Twitter that 5 students who participated in spring break have tested positive for the coronavirus.
"UT has been notified that five UT students, traveling together and with other UT students during Spring Break, have tested positive for COVID-19," wrote the school. "We sincerely wish our students, and any others who may be affected, a full and rapid recovery."
UT has been notified that five UT students, traveling together and with other UT students during Spring Break, have tested positive for COVID-19. We sincerely wish our students, and any others who may be affected, a full and rapid recovery. https://t.co/MXl4e1v3gh

— The University of Tampa (@UofTampa) March 21, 2020
Hearing of this news and after receiving massive backlash online, the most recognized face from the video has apologized for his words. Sluder posted to Instagram saying that he'd "like to take this time to own up to the mistakes I've made and apologize to the people I've offended."
"Like many others, I have elderly people who I adore more than anything in the world and other family members who are at risk, and I understand how concerning this disease is for us all. Our generation may feel invincible, like I did when I commented, but we have a responsibility to listen and follow the recommendations in our communities. I will continue to reflect and learn from this and continue to pray for our well-being. I deeply apologize from the bottom of my heart for my insecurity and unawareness of my actions."