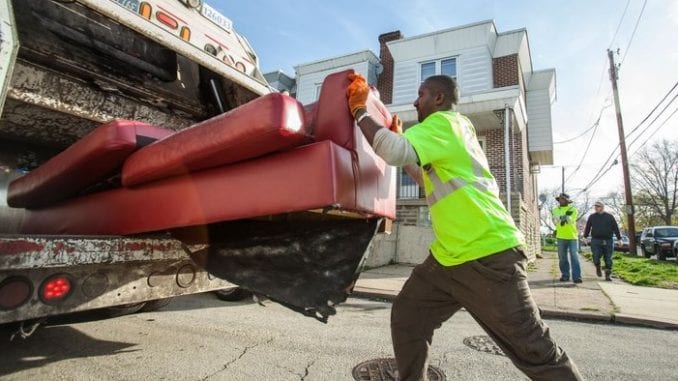 Homophobic, doctored picture said to have been passed around
After hearing arguments in court, a Los Angeles jury has awarded a former Los Angeles city sanitation worker $17.4 million dollars. Jurors concluded that the employee endured ongoing, repeated harassment by supervisors who falsely perceived that he was gay.
After deliberating for just two hours last Wednesday, they unanimously decided Mr. James Pearl of L.A. was verbally abused, hazed, and bullied.
More: Anderson Cooper attacked in homophobic tweet
During court procedures, Pearl's attorney showed a picture to jurors that depicted him in a same-sex relationship with a fellow employee. The image was then said to have been passed around to other sanitation workers.
Per the report in the LA Times, a colleague advised a manager in the "highest ranks" of the Bureau of Sanitation about the mistreatment. Reportedly, the manager failed to take appropriate action, as discussed in court papers.
Mr. Pearl, now 55, Pearl has been on disability leave because of the mistreatment and is said to suffer from psychological and physical trauma, per his attorney.
"The most outrageous part is the city had the information and sat on it," said Todd Nevell, lawyer for Mr. Pearl.
"As a result, it exposed the city to all of this further harm and damage.… It was not the rank and file engaged in this misconduct; it was the leaders of the department."
A spokesman for the L.A. City Attorney's Office, Rob Wilcox, has stated that he is not yet sure if an appeal will be filed, indicating the office was "reviewing our options."
Mr. Pearl began working for the Sanitation Bureau in 2002. In 2006, he was promoted to wastewater collection supervisor, per court paperwork filed in a L.A. County Superior Court.
Back in 2011, he filed a discrimination complaint with California regulators. In it, he stated he was transferred to a different office because he was black and as retaliation for complaining against a co-worker's misconduct.
Per the L.A. Times:
"Days after making the complaint, Pearl was formally told that the city was recommending him to be fired. He was accused of falsifying time documents for a subordinate whom fellow employees also perceived as being gay, and his termination occurred Aug. 30, 2011.

Pearl reported his firing to state regulators, contending it was retaliation and motivated by his perceived sexual orientation.

He also fought his firing through internal procedures with the L.A. Board of Civil Service Commission. The panel ultimately determined that his firing was unfounded and he was reinstated after 13 months off the job.

While off work, a supervisor continued showing at least seven underlings the edited photos that showed him in a fabricated same-sex relationship, Pearl's attorneys wrote in court papers."
The City of Los Angeles a strict policy of equity (that is their term) that that states it will not tolerate discrimination in any form. That policy specifically mentions sexual orientation.
Pearl's lawyer Mr. Nevell shared that his client — who he described as happily married to a woman — felt redeemed by the jury's decision.
h/t: LA Times