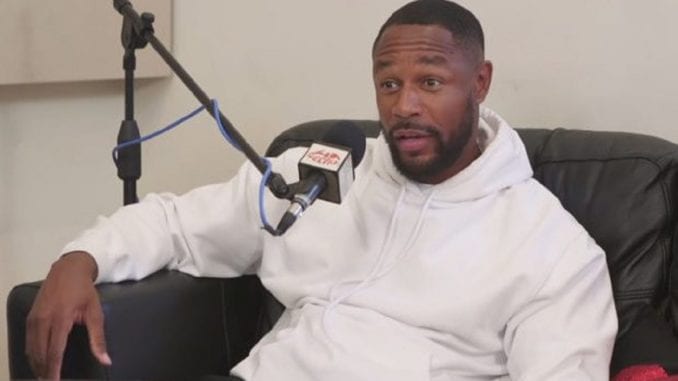 Can Men Experiment Before Being Labeled Gay?
Singer Tank has been going viral for the past few days for his stance on male experimentation.
Tank, real name Durrell Babbs, is an American singer known for his R&B sound. Some of his best known hits are "Maybe I Deserve," "Please Don't Go," "When We" (the latter became the song for the viral Asian Magic Mike video). But it seems that Tank is getting his biggest amount of exposure for his thoughts on men's right to sexually experiment.
Earlier this week, a podcast episode was released in which Tank was a participant. Tank's statement was in response to the question by podcast host Angele Yee, "If a man lies twice, does that mean he is a liar? To which Tank replied, "No, I've done construction work in the past, but that doesn't make me a construction worker."
Yee, deciding to push the conversation topic further, then asked, "Ok, so then let's say a guy sucked a d**k once, let's say twice, does that mean he's gay?"
This is what led Tank to respond with, "No, here's the thing. Twice is excessive, but let's dig into it."
He added:
"So ok, he sucked a dick once, right? And then he's like, 'I'm not sure if I liked it or not. Let me try it again. And then he says, 'You know what, it's not for me, I don't like the taste! It doesn't mean he's gay. It just means he sucked d**k twice."
Black Twitter's Response
Unfortunately, the black community showed its homophobia by responding negatively to Tank's comment. Many Black Twitter users, including rapper 50 Cent, expressed disbelief in Tank's statement and argued that a man who even contemplates giving oral is already gay. This not only erases bisexuality but also limits men's ability to experiment and find true self-happiness and sexual expression.
In reaction to this pushback, Tank shared a post on Instagram saying, "homophobia's real."
"Homophobia's real, let me tell you just that," he began. "It's just as real as racism and classism — all these things — and [is] just as damaging, and it plagues our community the worst. This can't be used as a negative."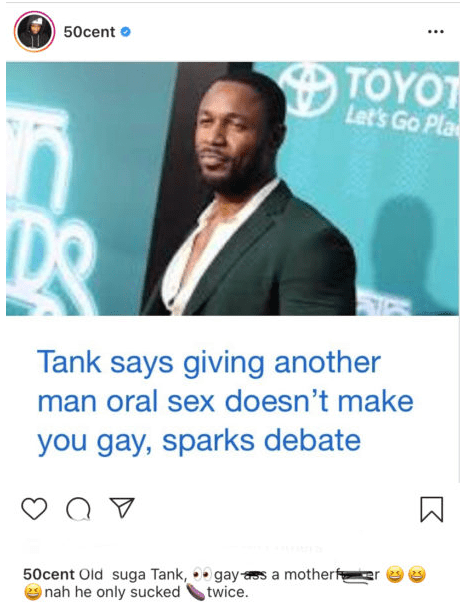 Tank then added: "You can't use a human being's existence as a negative. We're going through enough. Don't do that. I get it. You want to call me gay or whatever. I don't have to defend that to you or anybody. You don't have that power. But, let's get back to the positivity."
Tank then further defended his comment and stance on the issue while on the popular radio show The Breakfast Club.
"So, if you lie 10 times, then you're not a liar?" asked the radio show's hosts.
"Well, 10 times…you a damn near pro," Tank responded.
That said, Tank didn't back down on his stance on sexual experimentation. To hear his full thoughts on the issue and topic, watch the video below.