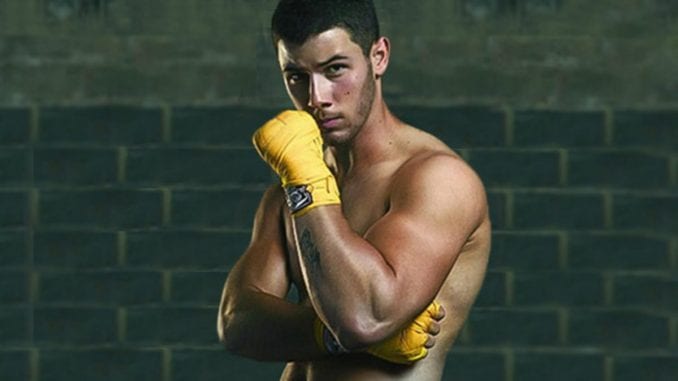 Male Thirst Traps
What is a thirst trap and who on Instagram leaves us parched? These are the important questions brought to our minds thanks to Thor: Ragnorak star Chris Hemsworth.
Yesterday, we shared with you the story of Chris Hemsworth somehow not knowing that what a thirst trap is. Despite posting plenty of thirst trap pictures in his time, Hemsworth had to have the phrase explained to him.
And now that the year is ending, we can't help but think about what exactly a thirst trap is and who's been giving us the thirst. A thirst trap is a pretty broad term. It can mean a person who posts seductive pictures online for others to obsess over. But, it can also be the post itself. Whether the post is blatantly sexual or hints at more mature subjects with a revealed skin (sleeveless shots, exercise shots, shirtless shots, etc). Honestly, a thirst trap is a board term.
But to help you get an idea of what exactly a thirst trap looks like, here's a list of 10 male celebrities who engage in the topic. And a brief description of why they've been added to the list.
Jason Derulo
While he may not be getting any points for his appearance in the film version of Cats, Jason Derulo turned many heads with a very obvious thirst trap pic. The picture from last month was so NSFW that Instagram eventually deleted it. But that didn't stop Derulo from posting another (more censored) version.
Zach Efron
While he may not have the pretty boy/hometown heartthrob persona anymore, Zac Efron is still loved for his hot, hot looks. And he makes sure to post thirst traps on Instragram every now and then to remind people.
Antoni Porowski
Mr. Sexiest Reality Star himself is big on the thirst trap game. It seems this reality personality and cook is always posting underwear photos of himself on social media. But when you look like that, who can blame you.
Nick Jonas
Ever since he turned of age, gay men and straight women have salivated over Nick Jonas. It seems that his muscular physic as a grown man has led to a long stampede of followers and fans. And Jonas knows how to keep fans coming. Just post a shirtless pic or photo in a muscle tee every few weeks/months.
Shawn Mendes
Honestly, a lot of what was said about Nick Jonas can be said about Shawn Mendes. In real life, Mendes is just a sweet guy who loves to sing. But on Instagram and on social media, he's a muscular jock that internet users can't get out of their wet dreams.
A$AP Rocky
This has been a crazy year for A$AP Rocky. He started it off with becoming a campaign model for Calvin Klein. He then spent the middle of the year incarcerated in Sweden for defending himself from violent fans/trolls. And now, he's ending it on a high note. He's out of prison and back performing on stages. But, he's also made sure to post on social media too.
https://www.instagram.com/p/B3P3zLBH4Qv/
https://www.instagram.com/p/B1KAFeRnRH1/
Ricky Martin
While Ricky Martin has always been a very attractive man beloved by social media users, the singer and actor got a LOT of attention this past week. The celebrity was daring enough to take a video of himself grabbing his junk and then share it on Instagram. It's fair to say, the internet collectively salivated.
I was not prepared what happens in this Ricky Martin Insta story… pic.twitter.com/argaz6u5Ma

— Jarett Wieselman (@JarettSays) December 4, 2019
Sam Asghari
But one day of heavy panting doesn't come close to a year worth of passionate urging that Instagram users, and gay news site writers, experienced over Sam Asghari. Known first as Britney Spears' boyfriend, Asghari has made a name for himself as a Instagram Hunk who loves ot share thirst traps. Just looks below.
Nyle DiMarco
What's there to say about Nyle DiMarco that hasn't already been said. He's hot and he knows it. And on top of that, the model and internet celebrity has also supported great initiatives and brought visibility to the hearing impaired and deaf community. What's not to love?!
Odell Beckham Jr.
While OBJ is known primarily for his football presence, the athlete made waves after he joined Calvin Klein as a model. His revealing photo in underwear got the world talking about him (both good and bad).
Jason Momoa
Jason Momoa may not always share thirst tweets, but he knows just how much the world loves him and his body. He's so in touch with that concept that he ultimately created a publicity stunt around his beard. Imagine what could have happened if he was shirtless while doing it!
Noah Centineo
Lastly, we have Noah Centineo. This teen hearthrobe may be on the cusp of becoming 20, but he's already a thirst trap king to many Instagram eyes. The actor has also done successfully well for Calvin Klein and seen many women and gay men salivate over him. And that doesn't seem to be stopping anytime soon.
Honorable Mentions
While that's the end of our 10 male celebrities, there were some names that deserve honorable mentions. This includes:
Chris Hemsworth (Despite not knowing what a thirst trap is)
Maravilla
Robbie Amell
Wilson Lai*
* (A model who skyrocketed to Instagram Fame by appearing on RuPaul's Drag Race's Pitt Crew)
Anthony Joshua
Who did we forget? Who would you add to the list? Let us know your thoughts down below.