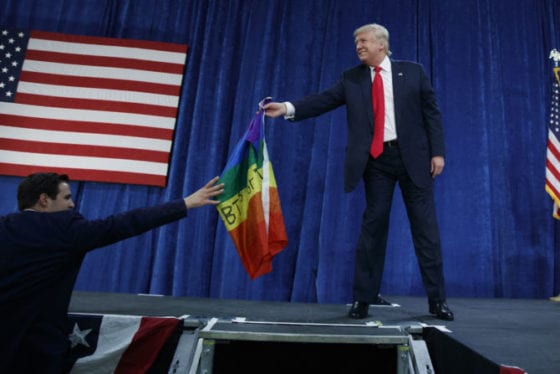 "I have to get back to you on that."
In a potentially worrying sign for LGBT Workers and their supporters, White House Press Secretary Sean Spicer said on Monday that he doesn't know yet if Donald Trump will keep specific protections granted by former President Obama through executive order.
Specifically, these protections cover workplace discrimination among Federal contractors.
A reporter from the Washington Blade asked if Mr. Trump's spokesman if he would keep a 2014 executive order that was specifically designed to prohibit federal contractors from discriminating against LGBTQ persons based on sexual orientation.
The response from Mr. Spicer was concerning:
"I don't know on that one," Spicer said. "I have to get back to you on that. I don't that we've gotten that far in the list of executive orders, but I'd be glad to get back to you."
The reporter pressed on, trying to obtain a concrete answer regarding Mr. Trump's intentions. Here is the response:
"Again, it's not — I just don't know the answer. I'll try to get back to you on that."
The questions come on the heels of a white paper sent last week by Log Cabin Republicans who all but begged Mr. Trump not to undo anti-LGBT protections that were given during the Obama administration.
Here is the LCR LGBT Executive Order white paper @PressSec was asked about at today's White House press briefing: https://t.co/949ORPDA6W pic.twitter.com/omp8sRSf8u

— LogCabinRepublicans (@LogCabinGOP) January 23, 2017
The Washington Blade has placed an official request into the White House via email to inquire if Trump plans to keep in place Executive Order 13672, which covers an estimated 34 million workers and many thousands who are LGBT.
The president of the Log Cabin Republicans, Gregory Angelo, intimated in a public statement that Spicer's response should not cause concern because the new administration is just getting started.
Related: Trump supporters say he won't harm LGBT people
"The Trump Transition Team has told me that they are in the process of conducting a full review of all of President Obama's executive orders, which corresponds with Mr. Spicer's statement that that the new administration has yet to consider the LGBT non-discrimination executive order," Angelo said. "I wouldn't read anything into Spicer's response besides his pure candor."
As of this moment, Mr. Trump's intentions remain unclear.
JoDee Winterhof, senior vice president for policy and political affairs for the Human Rights Campaign, had the following to say on the situation.
"Let's be clear: The Trump administration was unable to answer whether or not they would maintain basic protections for LGBTQ workers," Winterhof said.
"The only good answer to that question is 'yes, of course we will.' And while Mr. Spicer is asking the President for his answer, we'd also like to know if he'll appoint a pro-equality Supreme Court Justice? Or will he maintain protections for transgender students? Will his nominee for attorney general, who voted against expanding federal hate crimes law to include sexual orientation and gender identity, actually enforce hate crimes protections? Will his State Department commit to advancing LGBTQ equality abroad? We still don't know the answers to these questions."