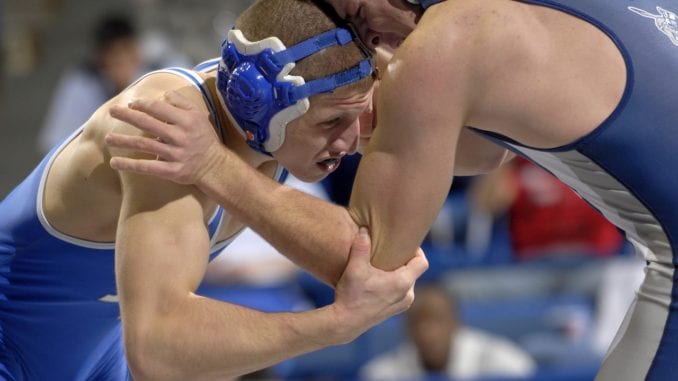 Scholarship Yanked
The California Polytechnic State University (Cal Poly) has taken back a scholarship to a young wrestler after he was caught on camera hurling ugly homophobic comments in a video that went viral on social media.
You may recall not long ago, that a video made its rounds on social media of a young man shouting horribly offensive anti-gay slurs during a pro-Trump rally. Well, that man is back in the news.
As Pink News reports:
"Video of 18-year-old wrestler Bronson Harmon holding a pro-Donald Trump sign, making an obscene gesture and shouting "f**k off, faggot!" was viewed more than 30,000 times since it was first posted on June 30, the day a Families Belong Together march—protesting the Trump administration policy of separating migrant children from their parents at the border—took place in the city of Modesto, California.
Abdul Lasaing, who filmed and posted the video, wrote that he was walking back to his car after the march when he encountered the group Harmon was with, led by Harmon's father. "I heard a group of men shouting and trying to scare us by saying #sendthemback and even yelled at someone nig**! I was so in chocked [sic] so I automatically pulled out my phone to record, and see who was being so disrespectful!" Lasaing wrote."
Well, Harmon probably didn't plan on one of the people commenting on the video thread recognizing him because that's exactly what happened.
One of the people commenting on the video thread apparently knew who he was and identified Harmon as having won a wrestling scholarship at Cal Poly.
"It's time to take that scholarship away from him" the person wrote in the comment, which was liked by 20 people.
Harmon was recruited in the Cal Poly wrestling team class of 2023 but confirmed to the San Louis Obispo Tribune he lost his spot after coach Jon Sioredas spotted the video.
Now, Harmon is saying he regrets the slur but thinks the punishment went too far. "Saying what I said is definitely not the right thing. I am supposed to be there to help the community be the best person I can be and represent the college the best way I can," he told the local paper, adding: "I still feel like my freedom of speech was taken away, and I don't think my scholarship should have been revoked over something like that."
More: Jean Claude Van Damme makes anti-gay comments
When Harmon and other athletes were signed in November, coach Sioredas said to each of them: "They each embody high character and high work ethic and will be great additions to our program."
Apparently, there was another incident that happened that same day he was caught hurling anti-gay slurs. An altercation between him and a man brought the man to press charges against the teen, according to The Tribune.
h/t: Pink News