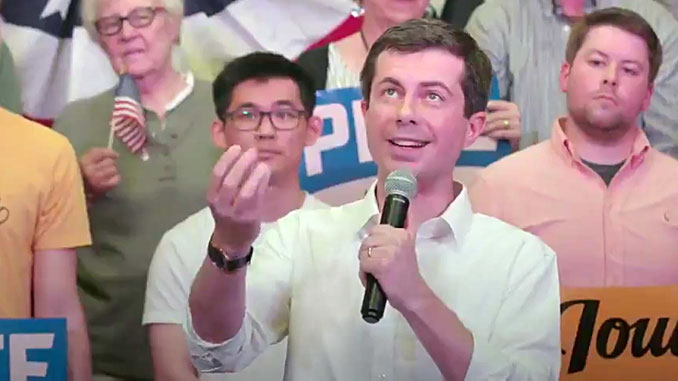 Democratic presidential candidate Mayor Pete Buttigieg drew questions from a fishbowl at a campaign town hall appearance in Iowa City last night, which resulted in addressing how young people can handle being bullied.
Eleven-year-old Rebecca Johann told ABC News that she has experienced bullying and wanted advice from the mayor on how to handle such situations.
According to StopBullying.gov:
• 28% of U.S. students in grades 6-12 have experienced being bullied; 20% of U.S. students in grades 9-12 have experienced being bullied
• Approximately 30% of young people admit to bullying others
• 70.6% of young people say they have seen bullying in their schools
• 70.4% of school staff have seen bullying; 62% have witnessed bullying two or more times in the last month; 41% have witnessed bullying once a week or more
• 57% of the time bullying stops within ten seconds when bystanders intervene
Addressing Rebecca and the other 600 attendees at the Wildwood Smokehouse & Saloon, Buttigieg said being willing to discuss the subject was an important first step. "Part of the advice I'd give would is to be willing to talk about it, so I think you're leading the way on that – thank you for raising the question," he said.
"I had experiences with bullying when I was growing up," Buttigieg told the young girl. "Everybody who's different can be bullied. And the secret is – everybody's different in some way."
"It's tough, it can make you feel angry, it can make you feel worse, and it can bring out the worst in you, too," he added.
"The first thing you've got to know is you have nothing to be ashamed of," drawing applause from the crowd. "And the second part, this is a much harder part to remember, is that the person who is bullying you probably has something a little broken in them, and it's part of why they're trying to get your attention."
Referencing the current occupant of the Oval Office who's made a career out of trying to bully folks, the 37-year-old candidate added, "I think it really matter that we have a president that doesn't show that type of behavior – it's one of the reasons I'm running for president."
And the crowd broke into cheers again.
"So, the hard part, if you really want to pop that balloon and take the air out of that bully, is to turn to a bully and ask if they are ok.," continued Buttigieg. "And they won't know what to do with it.
Watch the clip below for the rest of Mayor Pete's answer.
It's worth noting that the mayor directly addressed young Rebecca for the entirety of his response. He didn't 'play to the audience' or make the moment about himself.
After the event, Johanns told ABC News she handles bullies by walking away and notices that there are people who just stand around and watch as its happening.
She added that she thought the mayor's response was earnest and genuine.
"I like how he was so sincere and sympathetic," Johanns said. "It was so meaningful."