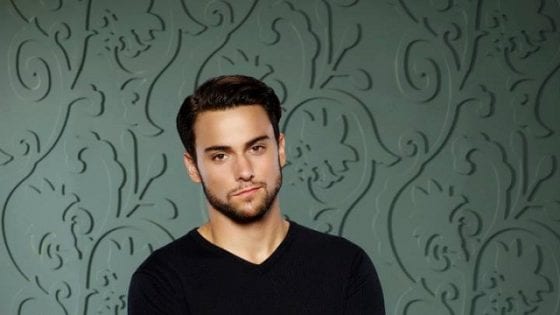 Jack Falahee Facts
Actor Jack Falahee recently took to Twitter in response to the 2016 Presidential election. In a touching disclosure, the star shared with followers that he is straight. See his original tweet here.
Let's start with 10 facts about Jack Falahee that we collected after reading all the interviews he has ever given. And believe us, they are a lot. A LOT!
You see, Jack is an up and coming celeb. Someone that, after the "How To Get Away With Murder" big series finale, will star in many films, get his own Hollywood Star, and create a fan base that the biggest "jeune premiers" would feel lucky to have!
Gentlemen …and gentlemen, here are 10 facts about Jack Falahee:
Gay Pop File: Jack Falahee
Birthday: February 20, 1989, Ann Arbor, MI
Zodiac Sign: Pisces
Eye Color: Light Brown shade
Height: 5'10
Body Type: Athletic
1. He Didn't Want To Talk Publicly about His Sexuality
Okay, I bet you know that Jack plays a role of an openly gay man in Shonda Rhimes' series. This role, however, has led many people to believe that Jack Falahee was in fact gay. When journalists asked about his sexual orientation, he always refused to answer and everybody just assumed that he was a gay man in the closet.
"I just think it's interesting because I have a body of work before Connor Walsh that is primarily heterosexual and yet people want to ask – you know, no one asks any other man, or woman, on my show, about their sexuality, and that's what fascinates me," he said in an interview.
However, last week, Jack Falahee decided to come out on Twitter. As a straight man. The reason? Donald Trump.
The actor was watching the election night with a gay friend who felt terrified after the results. Now, the actor says that he will start fighting for the LGBTQ rights. We've got another soldier on our side, people!
2. His Sex Scenes Make Him Feel Uncomfortable
In case you didn't know, Jack has a bunch of naked and steamy scenes on "How To Get Away With Murder." Either it is with his boyfriend on the show, Oliver (Conrad Ricamora), or with a guy he just likes, Connor, the character Falahee portrays, has shot so many sex scenes that will make you break that rewind button!
But this is not something that he likes talking about. As he told Vulture last year, "a sex scene is just a sex scene." In addition, he cannot really understand why people respond to the show's gay sex scenes, leaving the straight ones behind.
Good point, Jack!
3. However, He is Nothing Like Connor Walsh
Well, his character is not exactly that "marriage material" material kind of guy.
Connor doesn't take no for an answer and his confidence makes it hard for people to resist him. Busted! I am one of them! On the other hand, Jack Falahee is not that type of person. He is a shy man with all "the usual quirky insecurities that everyone has," he says.
There's something mysterious about shy guys, right?
4. His Favorite Scene on HTGAWM is Intense
There is this scene from season one that all HTGAWM fans fell in love with. An unexpected turn when Annalise Keating (Viola Davis' role) takes off her makeup and removes her wig.
That was the scene in which Annalise was presented as a degraded human being for the first time. And that was Jack Falahee's favorite part of the show.
For the record, this scene was an idea of Viola Davis who wanted her character to be sexy and confident, but, at the same time, real. This scene underlines the idea that Annalise in her private life is much different to the person she is publicly.
5. His Friend's Tragic Death Helped Him Become an Actor
They say that there is always some history behind every decision and every move we make in our lives. Jack Falahee could not be an exception.
When Jack was a teenager, one of his friends died tragically in a car accident. His friend was involved in theater and he was about to play in "Singin' in the Rain."
All his friends decided to participate as a tribute. Jack was one of them and after he quit the water polo team, he started rehearsing. The minute he stepped on the stage, he just fell in love with acting.
Some years later, half of the globe fell in love with him too.
"Pretending to be someone else every night alleviated all of this sadness that I was experiencing. I was like, 'This is quite cool. And I wanted to do another one,'" he told BuzzFeed two years ago.
6. New York Was Never His Dream-City
Just like any aspiring superstar, Jack used to work as a waiter in New York while he was working on and off as an actor. Feeling anxious because he wasn't getting the traction he was dreaming about, our favorite 27-year-old star felt disappointed.
"I started to feel that New York was slowly killing me. I think my darkest days were probably when I was catering. I would go to these parties and pass out hors d'oeuvres and it's like you're invisible. I remember one catering captain told me that all you are is a tray that comes into their space for a moment and then you leave. It was one of the most depressing things I've ever been told," he says.
The tough daily schedule he had to follow as a barman, had a huge impact on his career. Jack closed the bar at 5 a.m., slept three hours, and got up again to prep for an audition at 9 a.m. His manager told him to move to Los Angeles which he now loves.
7. He is a Real Food Lover
Although Jack has an amazing figure, he never hid his passion for food. His Twitter feed is all about snacks, pizza, bagels, junk food, and any other food recipe you could ever imagine.
After a steamy, shirtless HTGAWM scene, he tweeted: "FYI I ate 3 slices of pizza, half a box of Girl Scout cookies, 3 meatballs and a bunch of burrata after my shirtless scene." Don't you just love him?
And here is my favorite one. When a fan asked "Waffles or pancakes?" Jack tweeted back like a boss. "Pancakes on waffles." 
8. He Doesn't Like Hugs
If you ever meet Jack Falahee in person, just keep in mind our advice: Do not hug him! Seriously! DO NOT HUG HIM! This man doesn't like strangers touching him! Just say hi and engage to some chatting, but that's all.
As he says, he "just doesn't like the close quarters. Is that weird? It's kind of weird. Most people like hugs." But you are not like most people, Jack, right?
9. He Would Love To Do Voice Work For a Cartoon
Jack Falahee is in touch with his child self. He watches Pokémon (his favorite little creature is Squirtle), and one of his favorite animated films is "Toy Story." He has also admitted that he would love to lend his voice to a cartoon character:
"I'm super into Adventure Time on Cartoon Network. I love the idea of animation just because it removes the actor from the character and you can be anything. I've been devouring Adventure Time and Archer. I'd love to get my hands dirty on either of those shows," he said last year.
With a voice like this, we are sure he will. Soon.
10. Irish and Italian Ancestry
Given Jack's stunning looks, people wonder what his ethnic background might be. Well, we've got the answer.
According to public reports published in GQ and elsewhere, Mr. Falahee is of Irish-Italian ancestry.