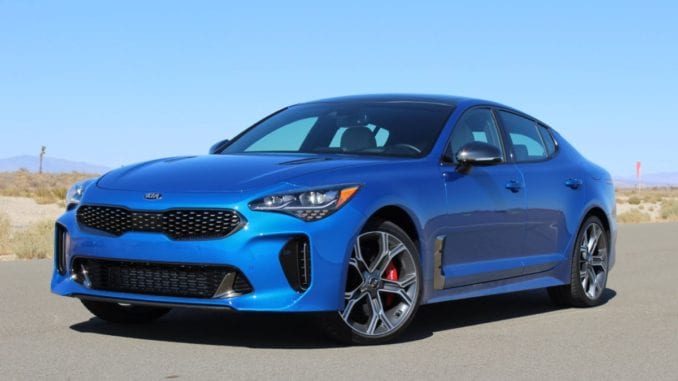 Kia 2018 Stinger – A Closer Look
The 2019 Kia Stinger is one of the highest rated new vehicles of 2019.  Yet, you should be looking at pre-owned 2018 Kia Stingers to really get the most value for your money. Here's why.
Brand new 2018 Kia Stingers were a bargain. The 2018 Stinger came with a choice of rear wheel or all-wheel drive, a V6 or turbo four cylinder engine, a unique style profile, and a super warranty. With a starting MSRP of $31,900, the 2018 Kia Stinger would be a serious contender against Audi and BMW performance sedans.
New vehicles depreciate fast, but new Kia Stingers don't lose any of their underlying efficiency after a couple of years. Reliability must be your biggest concern when purchasing a used vehicle. There are just so many question marks floating around in your head.
Is this a good deal on a used car?
Does this vehicle need additional maintenance after I buy it?
Has it been in any accidents?
These are just a few. Luckily, the 2018 Kia Stinger has a 10 year/100,000 mile warranty to give you some peace of mind. Second owners get that deal cut in half unfortunately, but 5 years / 60,000 miles should still cover your gently used Kia Stinger.
You can find a 2018 Kia Stinger with a turbo engine for around $20,000. However, the best value sits with the V6 all-wheel drive Kia Stinger GT. That's the best version of the Stinger and you can find a nice used one for around $28,000 to $30,000.
Put that up against the competition. For the same price as a Honda Accord, you can get a Kia Stinger sedan with way more power and personality. Looking for German steel? All-wheel drive Audi A4 sedans are going for $45,000 on AutoTrader. You also don't get the warranty that comes with a Kia Stinger GT with V6 and all-wheel drive.
So, let's take a closer look at what makes the 2018 Kia Stinger such a great vehicle.
Style Points of the Stinger
The 2018 Kia Stinger is a big body performance sedan. It strikes immediate comparisons to European fast cars but manages to avoid being a knock-off of any single brand or vehicle. It's a feast for the eyes at any angle.
The Kia Stinger has a fang-toothed grille and a long hood that sweeps back to a low angled windshield. The aerodynamic fish gill vents behind the front wheels reduce turbulence plus add to the sporty feel of the Stinger. There are dual chrome-tipped exhaust tips in the rear that perfectly complement the Stinger's fastback trunk.
Overall, it's not quite a sedan, and not quite a hatchback either. It's all the things you want from both. Most importantly, the 2018 Kia Stinger doesn't have a body style that will age and lose relevance. Some vehicles have a dated design architecture even though they're only a couple of years old. Fortunately, the Maserati-like style of the 2018 Kia Stinger will hold up over the years.
Performance Capabilities of the Stinger
There's a color screen in the instrument cluster of the Stinger. It can tell you the vehicle's performance data like lap time and cornering G forces. You might not ever need to know, but the fact that this information is available should clue you into the fact that the 2018 Kia Stinger can really move.
Handling is where the 2018 Kia Stinger really shows off it's performance chops. It should after Kia hired a BMW M engineer to lead the Stinger's development team. The Stinger has a high strength steel frame, but an advanced suspension system underlying it all.
You need to take a test drive in a Stinger GT or top tier GT2. Those models have Brembo brakes, adjustable dampers, and Michelin Pro tires. There are three different driving modes, as well. In Eco mode, you save some petrol. Sport mode extends the gears for longer, more powerful shifts. Custom mode allows you to configure some of the settings while Smart mode learns your driving habits to customize the settings for you.
The base models come with rear-wheel drive and a 2.0 Liter, turbo-charged 4 cylinder engine that produces 255 horsepower. If you're a fan of spending more money, then you'll probably want a four cylinder Audi or BMW. However, take a closer look at the V6 Stinger GT.
The 2018 Stinger GT can be outfitted with all-wheel drive and twin-turbo 3.3 Liter V6 engine. This powertrain set-up produces 365 horsepower and 376 pound feet of torque. It's mated to an 8-speed automatic transmission with steering wheel mounted paddle shifters.
Check out the 2018 Kia Stinger GT track test.
What It's Like on the Inside
You can tell that the 2018 Kia Stinger is aimed squarely at the big German luxury models. Every Kia Stinger comes standard with leather interior. Materials don't feel cheap or hard. The overall layout and style are upscale and easy on the eyes.
The rear bench is comfortable with plenty of leg room. That's thanks to the fastback design. That hatchback design also gives the Stinger 23.3 cubic feet of storage space. Fold the rear bench down and that space almost doubles.
You get a 7-inch touchscreen in the Kia Stinger. It's modeled after the BMW infotainment stack which features a tablet-like screen in the center console. Apple Car Play and Android Auto are standard features. If you're lucky enough to find a premium model, you get a 15-speaker audio system that bangs.
Start Looking for A Certified Pre-Owned 2018 Kia Stinger.