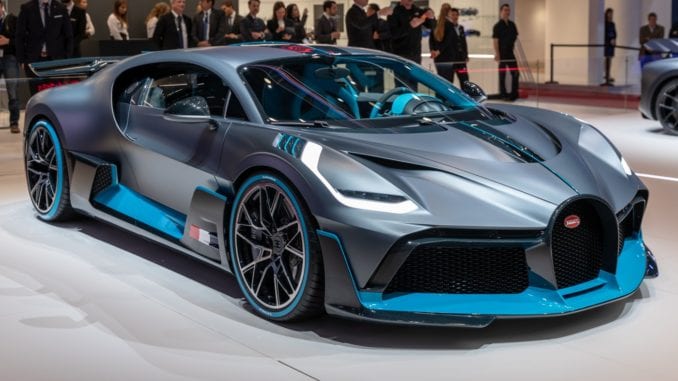 Quick rundown of the Bugatti Divo
Are you a fan of luxury automobiles? How about cars with ultralight construction made of advanced composite materials and a design that is aerodynamic (aka hypercars)?
If the answer is yes, you might like the Bugatti Divo. There's just one thing. To buy this baby, you'll need to have a cool $5.8 million dollars to laying around.
Yep, that's right. The price tag of this car is astronomical.
But let's say you have that kind of dough to spare. What do you get for your money? Well, I am about to tell you. First, the car is manufactured by Bugatti Automobiles S.A.S.  It was named after French racing driver Albert Divo who was well known in the 1920's and won the Targa Florio race twice.
Related: Learn about the Bugatti La Voiture Noire
The "Divo" was inspired by the Bugatti Type 57SC Atlantic and the Bugatti Vision Gran Turismo. Divo features a redesigned exhaust system with quad exhaust pipes.  It also has a unique 1.8-meter-wide fixed rear wing (think aerodynamics for improved downforce).
Other features include a specialized duct on the roof that pushes air to the rear of the car via a central fin. You'll also find a big chin spoiler, redesigned side skirts, giant air intakes on the front, new tail and head lamps, and improved an improved radiator – with cooling vents – on the wheel arches in the front (they help chill the breaks).
Assembly takes place at Alsace, Molsheim in France. The two-door coupe has a mid-engine and is all wheel design. Speaking of the engine, it has an 8.0 L (488 cu in) quad-turbocharged W16 and an impressive 1,103 kW (1,500 PS; 1,479 hp) power output.
Did you know this car has seven speeds? It does and comes with a dual clutch transmission. The top speed of this car is 236 miles per hour and has an estimated weight of 4,323 lb.
Stephan Winkelmann, President of Bugatti, said the following to the Robb Report about this vehicle, "I wanted to test my team, and myself, to develop more emotional performance and a completely new design. We wanted to highlight the sporty side."
Sporty side indeed. The Divo's 7-speed gearbox rockets the car from zero to 62 mph in a jaw-dropping 2.4 seconds. That's SUPER fast when you think about it.
To own this hypercar, you'll have to order it directly. It's not like you will find it sitting at your local dealership. While less expensive than the La Voiture Noire ($18 million), this vehicle still is massively expensive.
But hey, if you've got 5.8 million just sitting there and collecting dust, it could be an amazing buy.
—
Main photo credit: Wikimedia Commons