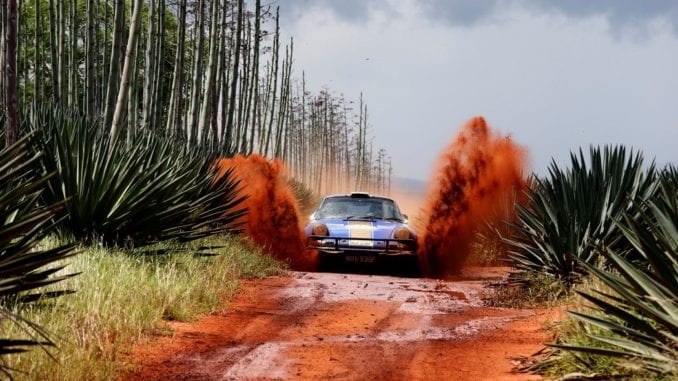 Just imagine racing for nine days straight across 5,000 kilometers of back country and urban streets in a modified Porsche 911. Then, add a torrential downpour of rain that turned portions of the course into a muddy mess. Oh, and add the potential threat of coming face to face with big game animals in their natural habitat and you've got an inkling of what it's like to race in the 9th East African Safari Classic.
The Safari Classic is an historic rally race that covers ground in Kenya and Tanzania. It's an epic contest of driving skill, reinforced chassis and rough terrain. The first race was held in 1953 for Queen Elizabeth II's coronation. Only 2-wheel drive cars with normally aspirated engines built before 1986 can compete and this year there were Porsche 911s, a Mazda Rx7, Ford Escorts, and even a couple of Datsuns competing for the championship.
We caught up with Tejveer Singh Rai of Kabras Sugar Racing on social media. He actually participated in the East Africa Safari Classic and he drove the #7 Porsche 911 in the photo above. Here's what he had to say about the race.
"I competed in it for the first time this year. Finished 4th. It was the toughest driving I have ever done. In 8 days of competition we covered 3500km and I went through 2 gearboxes, 1 clutch, 4 shock absorbers, 2 front uprights, 2 front torsion bars, 1 windscreen, 1 front skid plate, 36 tires, and shortened my 911 chassis by 50mm after a hard landing."
Sounds like Rai will have some serious bumps and bruises to nurse after the race. He goes on to say "I ran 50km of stage with my toes pulling back the accelerator that was stuck open to 5000rpm. No clutch either as the entire floorpan had been pushed up. The accident cost us 3rd, but after 8 days and 20 stages of rallying we finished only 2.5 minutes behind."
The local boys from Kenya weren't the only ones with dramatic moments. Due to the torrential rains, parts of the course were nearly unpassable. Many racers had to be towed out of the thick red East African mud.  This isn't your everyday mud either. It's the kind of mud that gets inside your engine parts and never quite comes out either. It was the most significant obstacle in the entire marathon race.
Related: What's New With The 2020 Toyota 4Runner?
The Porsche 911 seemed to be the preferred vehicle for this rally race. You need a certain type of vehicle to withstand this type of punishment. It must have a reinforced underbelly, rally-tuned suspension, modified air coolers, and a wealth of spare tires.
Austrian Kris Rosenberger and his navigator Niki Bleicher took home the ultimate victory in a Porsche 911. It just took them 9 days to complete the challenge. Their victory was especially sweet given the fact that Niki Bleicher was the first ever female navigator to win the Safari Classic.
Bleicher wasn't the only woman spoiling the boy's fun. Other female competitors included Julia Savesson who finished in 6th place, Kate Hayes and her father Joe Hayes along with Juliette and Renne Brinkerhoff.
The course itself was exceptionally brutal and not everyone could complete the race. Twenty teams signed on for the rally, but only sixteen were able to finish. And yes, just finishing a race like this is a victory in of itself when you consider that it covered nearly 3,400 kilometers and 10 days.
This rally championship must have been a thrill to watch as the racers passed through small villages bustling with life. Schools in race areas are given a break for the day so that children can watch the growing clouds of red dust and engine roars turn into split second flashes of metal and rubber.
The East African Safari Classic was once hailed as the most challenging rally race in the world. Yet, it stopped running after 2003 and became just a local event. One of the best outcomes of this year's race is that it will once again return to the World Rally Championship (WRC) next year. It's got government support and a renewed commitment by the FIA president.
Check out this video to see the rally in its heyday.
It's quite dangerous to watch these passing cars from close range, but that's how you get such stunning images as the ones you see here. If you love what you're seeing, then feel free to head over to the viewing gallery of the East African Safari Classic to see
all the photos
. There are simply too many to include in our report.