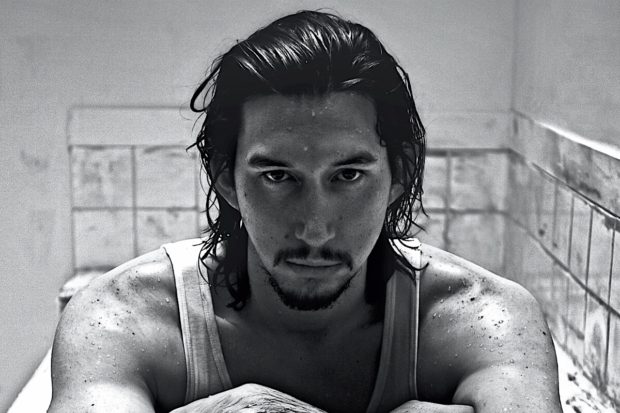 Facts About Adam Driver 
Adam Driver has had a good couple of years. The former Marine has suddenly flipped into a A or B list actor (depending on who you ask) who's not only working on a hit movie franchise but he worked on a hit tv show as well.
But what do we really know about the Star Wars and Girls actor? If you answered with the words nothing or basically nothing, don't worry because MV has got your back.
Here's 7 facts about Adam Driver.
Bio File: Adam Driver
Birthday:  November 19, 1983. San Diego, California
Height: 6'3"
Height: Athletic
Eye Color: Dark Brown
Zodiac: Scorpio
1. He Joined The Marines
Driver joined the US Marine Corps a few months after the attack on the World Trade Centre in September 2001, and served for two years before being deployed to Iraq.
Sadly, right before his deployment Driver broke his sternum in a mountain biking accident. Then, he injured it more around the time of the deployment and couldn't continue with his eight-year contract for the Marine. They later released him on military grounds and he was sent home.
2. He Loves The Stage
Before joining the Marines, Driver had applied to the Julliard School but was rejected. Then during service training, Adam had the epiphany that he wanted to take another shot at acting.
This happened when an exercise went wrong and a deadly cloud of white phosphorus forced him and his fellow Marines to run.
"I made up my mind then that I wanted to smoke cigarettes and pursue acting. When you get out of the Marine Corps you think you can do anything," he told the New York Times.
After Driver came back from battle, he reapplied to Julliard and got in this time. He then followed the life of a stage actor all the way to Broadway in shows like Mrs. Warren's Profession and Man and Boy. Before finding out that tv and movie acting wasn't so bad after all.
3. He Was In Fight Club
No, Adam Driver wasn't in the movie Fight Club, but he and his childhood friends were inspired by the film. So, they ended up making a group similar to it.
He often looks back on those events reminiscing and is quoted for saying, "They had a big grassy field behind f*ckin' Celebrations Unlimited, an event space that people rent out to get married or whatever, and we would go out there in the middle of the night and beat the sh*t out of our neighbors."
4, A Charity Man
While at Julliard (specifically, during his second year), Driver and classmate Joanne Tucker created Arts in the Armed Forces, a nonprofit that brings theater performances to current and former military members and their families.
5. He's Married
Yes, we're sad to say to all those fans hoping to get a piece of him one day that the man is taken. After leaving school, Driver later married Tucker, his former classmate and girlfriend, in a secret ceremony attended by only a handful of loved ones, like former cast-mate and close friend Lena Dunham, on June 22, 2013.
6. "I'm Like a Sight Gag. I Have This Really Big Face."
If some of you think, "Why are we talking about this guy? He's not that good looking." Adam Driver would have to agree with you.
Driver is constantly amazed that people think that he is hot, a sex symbol, or that photographers want to take pictures of him. In fact, he once said, "I don't totally get it. I mean, when I read for Girls, I was, like, the script says 'Handsome Carpenter,' so someone else is going to get the part. They'll have someone handsome, not me. I mean, I'm not in any danger of getting leading-man parts."
7. He's Intense
Many people agree, Adam Driver has an intense persona. Lena Dunham admits that the reason the actor got the part of her boyfriend in Girls was because he was so intense and so different than anyone else that had auditioned for the part.
Plus, Richard Feldman, a professor at Julliard, remembers how Driver had a very intense work life as a student that as Driver remembers, "made a lot of people cry."
Driver would run from his apartment in Queens to the Julliard School in Manhattan, binge-watch movies or read play after play in the library for reference, and take scene study class to an extreme level of commitment.