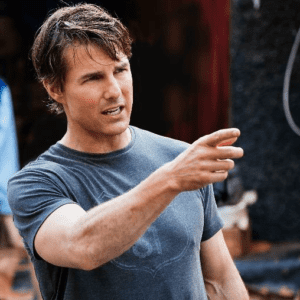 7 Facts About Tom Cruise
Tom Cruise is a Hollywood actor who's seen is fair share of ups and downs in his career (and not just while jumping on Oprah's couch).
If doesn't matter if you're on Tom's side, against it, or if you don't care either way, what matters is that he might be on the up again.
Tom just got back from having a success with Mission: Impossible – Rogue Nation, and is looking for a similar outcome with his The Mummy reboot that's premiering this weekend.
But before we find out if that movie ends up making it big, we thought we'd take a little time looking into Cruise a little more.
So, here's 7 facts about Tom Cruise that might just surprise you.
Thank you to everyone who came out to The Mummy's premiere in Australia. It's so great to be back. pic.twitter.com/jgEMp6EHZ2

— Tom Cruise (@TomCruise) May 22, 2017
Gay Pop File: Tom Cruise
Birthday: July 3, 1962. Syracuse, New York
Height: 5'7
Eye Color: Hazel
Zodiac: Cancer
1. Tom Cruise Day
In Japan, there is a day devoted to Tom Cruise.
Tom Cruise is apparently the one Hollywood actor who has spent the most time visiting Japan back in the early 2000s, so the Japan Memorial Day Association decided to name a day after him.
As such, every October 10 is officially Tom Cruise Day in Japan, but don't think that means all the Japanese people take off from work to celebrate him.
2. He Had A Troubled Upbringing
Tom Cruise did not have a happy childhood. Tom Cruise grew up poor and lacking several base necessities even though his father was an electrical engineer and his mother was a special education teacher.
In addition, his father was abusive and Cruise is quoted as referring to his father as a coward and a bully.
In addition, Tom Cruise had a terrible time outside of his home life. He had a difficult time with his education and was bullied for 12 years and at 15 different schools.
What. A. Day. Thank you Osaka, Fukuoka and Tokyo and my fans all over Japan. pic.twitter.com/D0InU94UGi

— Tom Cruise (@TomCruise) June 26, 2014
3. He Wore Braces As An Adult
Patrick Swayze wrote in his memoir, The Time of My Life, that Tom Cruise was insecure about his teeth. It got so bad that he even avoided photo shoots.
That eventually lead to Tom Cruise fixing the problem by getting braces. He wore them in 2002, but would take them off whenever he was shooting for a movie.
4. He Had Dyslexia
Adding to the problems he had growing up, Tom Cruise suffered from "Developmental Reading Disorder" or Dyslexia.
Dyslexia is a disability which causes people to have problems reading.
Cruise was officially diagnosed when he was 7, but didn't seek help until he was much older. He took classes through Scientology groups, and when the classes lead to success, Cruise official joined the religious group.
Just another night at the opera. #MissionImpossible pic.twitter.com/kj8a1woyGG

— Tom Cruise (@TomCruise) July 23, 2015
5. He Has His Hero Moments
Tom Cruise often plays heroes in his movies, and in his personal life he sometimes out heroes them.
For instance, in 1996 Tom Cruise saw a woman get hit by a car. He helped her get to the hospital and then paid for her emergency bill of about $7000 when he found out she had no insurance.
Then in 1998, Cruise saved a woman from getting mugged in London. He and his bodyguards chased the attacker away from her.
6. He Once Dressed In Drag
Another moment in Tom Cruise's past is the time that he dressed in drag.
In 1994, he waon the man of the year award by Harvard's Hasty Pudding Club, a group that is known at Harvard for putting on a drag show.
Tom Cruise actually went and accepted the award while wearing a bra and heels.
Join me and @JKCorden on the Cruise Ship this Wednesday on the @LateLateShow. #LateLateLondon pic.twitter.com/9nDSIoIwDr

— Tom Cruise (@TomCruise) June 5, 2017
7. He Was The Model For A Disney Prince
Lastly, during the height of Tom Cruise's fame in the early '90s, his face made it into a classic Disney movie.
The animators at Disney used Tom Cruise's face as a basis for the face of Aladdin, the hero in a mainstay of the '90s Disney renaissance.
Behind the scenes of #MissionImpossible III with the great J.J. Abrams. #TBT pic.twitter.com/rBxPffsOFf

— Tom Cruise (@TomCruise) April 30, 2015