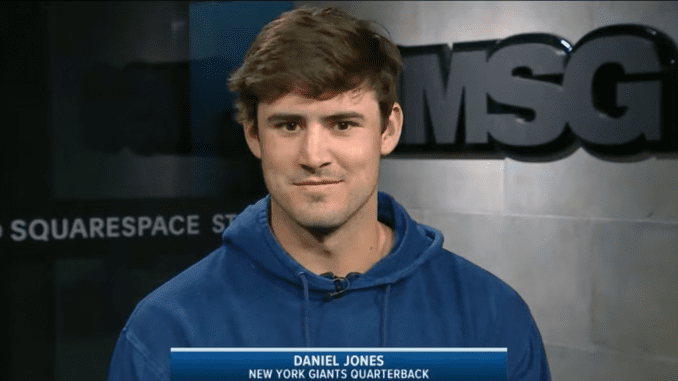 8 Facts About Daniel Jones
American football is just around the corner, folks. This coming week sees the beginning of 2020's Football season and the return of one of America's favorite past times. But, unfortunately, we'll be spending less time with our favorite teams than we have before.
With most major league sports getting shortened, we won't get all the time we usually have for watching the Eagles, the Cardinals, the Panthers, the Patriots, the Giants, and so on. In order to make up for that lack of time, we might as well learn some facts about one of the teams' new(ish) members and one of the new generation of professional football players. Namely, Daniel Jones.
Daniel Jones is still somewhat new to the NFL. Jones just finished his first year as the New York Giants' quarterback. He's gotten his feet wet and started his (hopefully) long career with the team. Many see the great potential he has for the sport and the great success he experienced last year, so we can't wait to see what he'll do this year. In the meantime, we might as well learn some fun facts about the man. If you agree, here are eight facts about the New York Giants quarterback Daniel Jones.
https://www.instagram.com/p/B7uJqOYlQfj/
Pop File: Daniel Jones
Birthday: May 27, 1997
Birthplace: Charlotte, North Carolina
Height:6 ft 5 in (196 cm)
Weight: 221 lbs or 100 kg
Zodiac: Gemini
https://www.instagram.com/p/B_qSAHXlTdQ/
1. He Comes From A Family Of Athletes
As with many professional quarterbacks before him, it's no surprise that Daniel Jones comes from a big sports family. Becca, Daniel's older sister by 22 months, played field hockey for four years at Davidson College. Daniel's mother also happened to play field hockey when she was younger. Then, Daniel's younger brother Bates is in the men's basketball team at Davidson. The youngest of the siblings, Ruby, maybe the best athlete of Daniel's siblings and plays for Duke University as a decorated soccer player.
The family was also very supportive of each other in all of their many sporting events. As Daniel's mother, Becca Jones, told the Athletic:
"It was always fun. We never felt like it was something we had to do or that it was a burden. Saturdays were the best because everything was all packed into one day, before school sports started. Everybody went to each other's games and cheered and then got back in the car and went to the next thing. It was just something we did. We felt like there was a lot of joy in doing it. So it just kept going year after year. I don't think we've stopped. We still go from game to game, and those are our best days, when we're still doing that."
2. He Loved Growing Up In An Athletic Family
Speaking to the Fayetteville Observer, Daniel Jones noted that he loved growing up in such an athletic household. That meant he always had someone to help him practice throwing a ball.
"Growing up with all the sports in the household was a lot of fun,″ Jones said. "It basically meant you always had someone to throw the football with or play one-on-one with.″
https://www.instagram.com/p/Bur-mU-gcUr/
3. He Struggled With Injuries
Unfortunately, Daniel Jones' childhood wasn't always happy. There was a lot of pain that came with his love of sports too. Jones' college career was full of injuries and the athlete often played while dealing with pain. Daniel's most notable injury, though, happened during his junior year of high school. That year, Jones experienced a basketball injury in the form of a broken wrist. That led to him being unable to throw during the spring and harmed some of his chances in getting noticed for college sports.
4. He Went To Duke University
Thankfully, Jones did eventually get noticed by some big-name schools albeit not big-name football schools. Having gone to Charlotte Latin School in Charlotte, North Carolina, and having his wrist injury, Jones didn't get much attention from division one schools. That led Jones with the attention of the Harvard Crimson, the Duke Blue Devils, and the Princeton Tigers.
After seeing that Jones was considering Harvard or Princeton, his high school coach offered Jones to Duke Head Coach David Cutcliffe. Jones was offered the chance to be a glacier. This meant he had to pay his way through his first semester until a scholarship became available… which it later did.
https://www.instagram.com/p/BpxwaVfAmdy/
5. He Was A Late Bloomer
Growing up, Daniel Jones was very skinny. In his sophomore year of high school, Jones was 5 feet 11 inches and weighed about 150 pounds. Despite that size, he was very athletic and extremely competitive. He then started to hit a major growth spurt by junior year of high school. He later stood at 5 feet and 3 inches by his senior year.
6. He's A Humble & Charming Guy
Despite his great success, Daniel Jones is known as one of the humblest guys around. His old teammates have gone on the record to talk about Jones' kindness to them. For instance, Jones visited an old teammate in the hospital frequently. Jones would also organize hangouts like cookouts or dinner at restaurants.
"Friday night's kind of free for us, we get to leave early," Jones told the Daily News in 2019. "So it's just an opportunity to hang out with teammates. And me, I don't have a family, I don't have kids, so I asked (them). It's been good to grab dinner and hang out, get to know some of the guys better."
https://twitter.com/barstoolsports/status/1208961854904717312
7. He's A Goofy Guy
With his friendliness and kindness also comes a lot of fun and goofy energy. Before he became too famous to hang out "in the wild" too often, Daniel Jones could often be seen hanging out in bars and watching a good game with friends or even strangers. He still does that sometimes and that includes the video which shows his goofy dance moves.
8. He's Currently Spoken For
Lastly, Daniel Jones is happily spoken for. And, he's been so for a long time now. Daniel Jones is dating a veterinarian named Ella Bonafede. The two possibly met at Duke University while they were both college athletes. At the time, Bonafede played lacrosse. The two have been together ever since.
https://www.instagram.com/p/BzMNnACl-pF/
Daniel Jones
Daniel Jones' professional football career is just getting started. With the many years he may have ahead of him, we look forward to seeing his success within the sport. But with that, we also look forward to learning new things about the rising athletic star. Until then, we hope you enjoyed the eight facts we shared above.