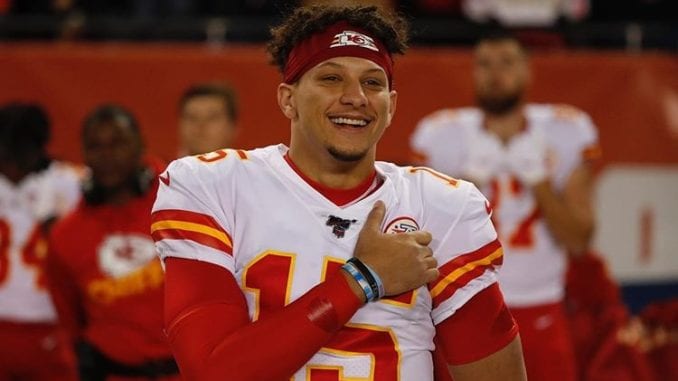 Earlier this year, Kansas City Chiefs quarterback Patrick Mahomes Ⅱ became a household name. Despite only being a professional football player since 2017, Mahomes bame a star in the sport this year. He helped his team make it all the way to the Super Bowl and then they ended up winning!
But who is Patrick Mahomes Ⅱ really? What's this young man's life like off the football field? Who are his closest friends and what does he value most in life? If you wanna know any of that info, don't worry. We've got you covered. We recently talked about Mitch Trubisky, the new QB for the Chicago Bears, and we couldn't help looking into other new players to the game.
Here are 7 fun facts about the pure-hearted Super Bowl champ Patrick Mahomes Ⅱ.
Pop File: Patrick Mahomes Ⅱ
Birthday: September 17, 1995. Tyler, Texas
Height: 6'2
Eye Color: Brown Hazel
Zodiac:Virgo
He Has A Strong Arm
No, we're not just talking about how big his guns look (but that too), we mean that this guy can throw a ball with the best of them. While he played for Texas Tech University, he totaled more than 5,000 yards of distance for his passes.
It's In His Genes
It seems being a good thrower is in the Mahomes genes, because Patrick Mahomes Ⅱ isn't the first to be a pro at it. His father was a baseball pitcher who played for teams like the Boston Red Sox, the Texas Rangers, and the Chicago Cubs.
He Was Bound To Be A Pro
Even though Pat Mahomes Ⅱ eventually settled on football, it seems he was destined to be a pro athlete somewhere. Before he made the switch, Mahomes Ⅱ was being scouted to join professional teams after he graduated high school. He was even offered 1.6 Million to do it.
He Switched From Baseball To Football
That said, Pat ended up not becoming a professional pitcher. After spending a few years playing football in high school and playing both sports in college, Pat decided to pursue the life of a Quarterback instead.
He's A Family Man
Besides his mother and father who've supported him as he rose the ranks in the sports world, Patrick also loves to post about his brother and sister on Instagram. In fact, earlier posts in his Instagram is full of family shots showing how close he is with them.
Also, funny enough, his brother Jackson Mahomes is creating a name for himself as well. While Patrick is out there working as a professional football player, Jackson is becoming internet-famous as a TikTok star. Go figure.
He Has A Longtime Girlfriend
Sorry to say though that this guy is off the market for anyone hoping to one day get lucky with him. In fact, he's dating a longtime girlfriend of 5 years named Brittany Matthews. They met in high school, stayed together even though they went to rivaling colleges, and support each other's sports careers (she plays soccer at UT Tyler).
He's a Religious Man
Pat's mother, Randi, spoke to IN Magazine about how she's proud of her son for growing up to be such a religious man, "In middle school, he got real involved with his youth group. He got saved. There was a night at church, he had his hands raised to the Lord and he was singing. I just felt overcome with this most awesome moment, more than any football game, because I knew where his heart truly is."
Related: Athletes bond with their kids through sports