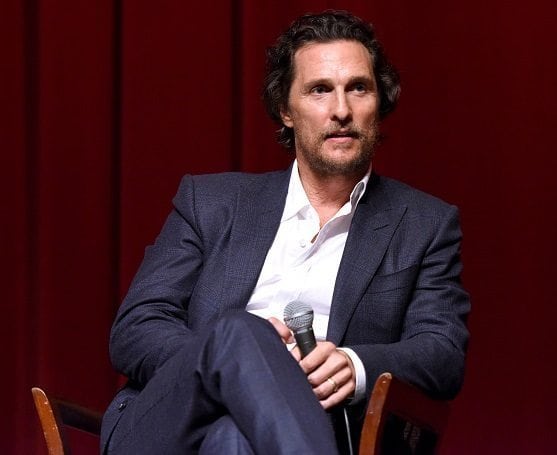 Matthew McConaughey Facts
Matthew McConaughey has had to work a lot in his career as an actor. He started out being everyone's man crush who stared in romantic comedies and often had his shirt off.
From there, McCongaughey had a McConaissance as he took on more serious roles like Gold, The Wolf of Wallstreet, and Interstellar.
But sadly, it seems that McConaughey's career has gone on another dip and his latest film The Dark Tower, where he co-stars with Idris Elba, isn't doing well. (But, that's the writing and directing's fault. Not his).
That said, plenty of people still love Matthew McConaughey and want to learn more about him. So, here's a list of 7 surprising facts about the man.
saw some 12ft. Gators in this swamp #tbt pic.twitter.com/BsbJCmiqNY

— Matthew McConaughey (@McConaughey) August 13, 2015
Gay Pop File: Matthew McConaughey
Birthday:  November 4, 1969. Uvalde, Texas, U.S.A.
Height: 6'0"
Body: Athletic
Eye Color: Brown
Zodiac: Scorpio
5 Olympics, 26 medals, 22 golds and counting- this man's gonna sleep well! pic.twitter.com/rJmiTJ1oGW

— Matthew McConaughey (@McConaughey) August 12, 2016
1. He Once Wanted to Be A Lawyer
After high school McConaughey took some time off to study abroad in Australia. When he came back, he planned to go into law school and become a criminal defense lawyer.
During his time at the University of Texas at Austin, McConaughey ended up changing his mind and went into film instead.
2. Great Friends With Lance Armstrong
Besides his wife and kids, Matthew McConaughey has one great realtionship and that's his friendship with Lance Armstrong.
The two are Texas born men who train together, vacationed together, and completed charitable work together.
Because of this, there were rumors that the two were an item, but both insisted that their friendship is purely platonic.
might need to bid on my friend Evel Knievel's famous cane full of @wildturkey that's up for auction pic.twitter.com/edErXVCjsg

— Matthew McConaughey (@McConaughey) February 22, 2017
3. His Hero
Ever since he was a child Matthew McConaughey has idolized the daredevil Evel Knievel. Because of that, he says that he would love to play the star in a movie one day. Fingers crossed.
4. He Doesn't Wear Deodorant or Cologne
That's right, the actor proudly says that he won't wear anything to mask his manly scent. But, whenever it does get too bad he'll just go and take a shower.
Happy to have my pal @kennychesney back to play at this year's Amazing Race fundraiser at @HOBNOLA on Sat, April 8th.Tix on sale Friday pic.twitter.com/EvyJY12LGQ

— Matthew McConaughey (@McConaughey) February 7, 2017
5. He Sold His Car for Charity
McConaughey has his own charity that supports people fighting cancer. But, in addition to that, he once auctioned off his 1971 Chevy Stingray Corvette on Ebay. Then, he donated the proceeds to Oprah's Angel Network Hurricane Katrina and Rita relief funds.
6. He rubbed Barbara Walters's Feet
Once, at the end of an interview with Barbara Walters in 2006, McConaughey decided to give his interviewer a nice foot massage. When she asked about it later he said, "It could have gotten intimate if you were single."
#tbt lookin forward to checking out @channingtatum and the boys this wknd in magic mike xxl pic.twitter.com/SryYoEGl3g

— Matthew McConaughey (@McConaughey) July 2, 2015
7. His Brother's On A Reality TV Show
Lastly, McConaughey has a brother with the nickname of Rooster. Rooster is a self-made millionaire who stars on the show West Texas Investors Club. It's basically a Texas version of Shark Tank.
I found a great American story @WildTurkey, one I get to tell as Creative Director https://t.co/Ka6gC185sa #ad pic.twitter.com/xLRLiAZxYg

— Matthew McConaughey (@McConaughey) August 1, 2016