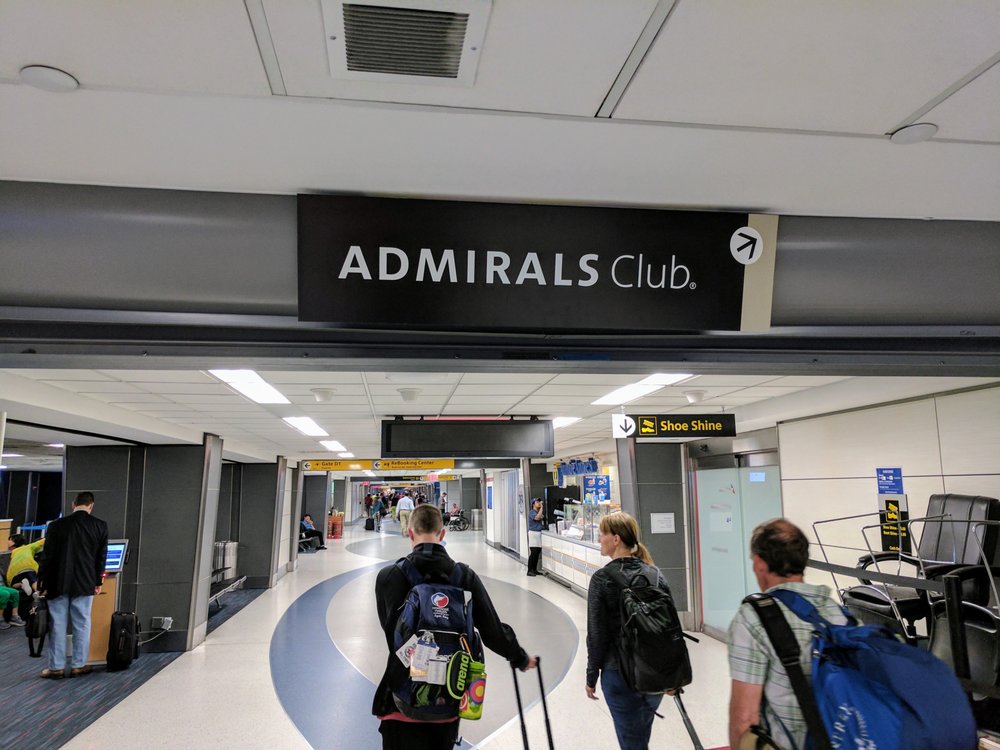 Review of the American's Admirals Club at LaGuardia Airport
Recently, I had the chance to visit the American Airlines Admirals Club at New York's LaGuardia Airport. The reason I stopped by the lounge was simple – I was returning from NYC back to Chicago as part of a weekend junket to Manhattan.
Because I've held an Admirals Club membership for several years, I figured I'd pop into this lounge to check things out as I waited to board my flight back to ORD. Just for background, I arrived at the club at 11:30 am, 1.5 hours prior to a 1pm boarding.
FYI: The club is in Terminal B, just beyond the security checkpoint on the D concourse, near gates 1 and 2. Look to the right and you'll see the sliding entrance door. To access the lounge, you can either take the elevator or walk up two flights of stairs.
So, you may be wondering what my impressions were of this club? I'll level with you – I was disappointed. The club was small with almost no place to sit down. Additionally, there were simply too many people in the lounge to move around.
Related: Hilton O'Hare review
Was this because of delayed flights? Not from what I could saw. Could the seating problem have something to do with passengers killing time as they waited for an international flight? Nope. It's a domestic airport. Oh, in case you are wondering (to my knowledge) AA doesn't fly transcontinental from LGA either.
Here are some of my other observations (good and bad):
The men's restroom was clean but somewhat smallish
Generally speaking, the club was clean with attendants regularly vacuuming and wiping down furniture.
The Internet connection was strong (you need to get a passcode from the front desk to access).
Selection of newspapers was lacking (only the WSJ when I visited).
Very few places to sit. The seats that were available were reminiscent of what you might find at a gate. Think rows of seats.
Very few tables available to place your laptop on, making it difficult to do work.
Decent size bar with tables for people who want a drink. The problem is not everyone wants to booze it up in between flights.
Food selection was OK. The usual fair of nuts, pretzels, oatmeal, and fruit (apples and bananas) were available.
Coffee and tea were available and appeared to be well stocked.
Old furniture everywhere, including chairs that looked like they may have been from the former TWA Ambassador's club.
A decent business area with several computers available to access the web or check email.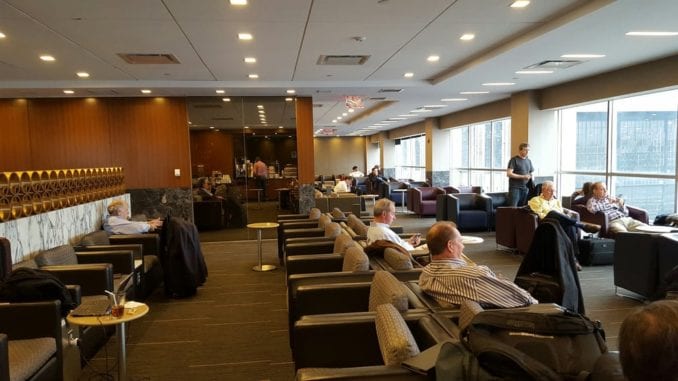 Admiral's Club LGA Worth The Money?
Let's get back to the main question I asked at the start of this post. Is this lounge worth the money? All I can tell you is if I bought a day pass for $59.00 USD, I would not be pleased.
Again, because I have an annual membership with this carrier's lounge network, I'm able to access any of their domestic and international clubs. But if I had to buy one for use exclusively at LGA, I'd skip the experience.
To be fair, the current terminal space at LGA is small and cramped. It's one of the reasons this airport is often referred to by passengers and flight crews as "La garbage". The Port Authority of New York knows this, which is why construction is currently taking place to build out a new airport.
Everything is supposed to move over to the "New Terminal B" sometime in 2020. I am hoping the move includes a roomier, more updated club than the current arrangement mentioned above.
Let me say that I've been to many of AA's clubs in the past, including Los Angeles, Chicago, Houston, Dallas and Honolulu. All of them were wonderful with the type of amenities and seating one would expect from a global airline.
I'm mentioning this because I don't want to paint their entire lounge system with a wide brush. That said, I must say the experience at the AA Admirals Club at LGA was unpleasant. See this video from a Yelp reviewer if you want to get a feel for what the club looks like. If I had to buy a day pass, I can honestly say I'd skip it and hang out by the gates.
Have you visited the Admirals Club at LGA? If so, what were your impressions?