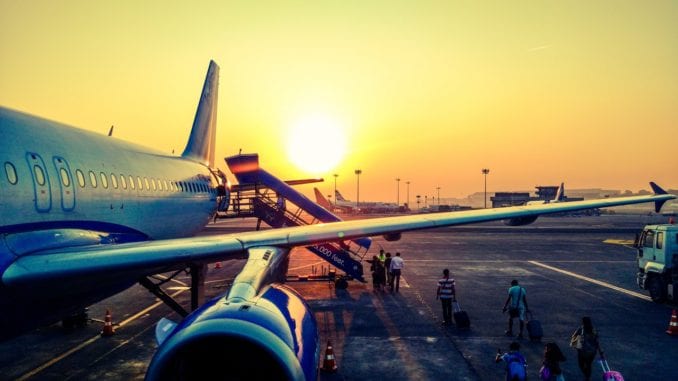 Review of the Hilton O'Hare Chicago
If you travel in and out of Chicago, you've no doubt seen the Hilton O'Hare. It's kind of hard to miss because it's the only hotel located directly inside O'Hare airport (ORD).
Recently, I stayed at this facility while traveling from Chicago to San Juan, Puerto Rico on United (see review). You may be wondering why I overnighted here, given that I live in the windy city?
It's simple. The weekend I was scheduled to leave also happened to be the same weekend a massive snowstorm was slated to hit Chi-Town.
Staying at O'Hare Hilton – The Backstory
Because my flight was to depart early in the morning, I thought it best to stay at the airport, thereby avoiding delays that inexorably happen due to backed up traffic on the drive in.
And it's a good thing I did.
As it turns out, the storm ended up shutting down parts of the Kennedy Expressway and created major delays on the CTA's Blue Line; the commuter train connected to the airport.
So, the day before my flight and hours before the storm hit, I jumped on the Blue-Line and rode it into O'Hare.
At any rate, now that I'm back, I figured writing up a review might be helpful to readers like you or anyone interested in staying at this facility.
Right off the bat, I need to tell you that I'm not getting one dime from the folks at Hilton for penning this piece. I'm also not receiving any compensation from an affiliate program.
What you are about to get is the real deal and an answer to the question: Is the Hilton O'Hare worth the money?
What follows is my review that includes a list of pros and cons. The video below was not taken by me but does give you a general idea of what this property looks like.
Type of Room and Rate
Because I had booked at the last minute, there weren't a lot of options from which to choose. The only available inventory was their "family Suite"; a 485 sq ft room that costs $240.00
When you throw in taxes and fees, the final price was around $320.00.
That's a lot of money if you ask me. Still, I booked it anyway given the weather conditions. To be fair, the hotel does have other rooms that cost less. But to get them, you need to book well in advance.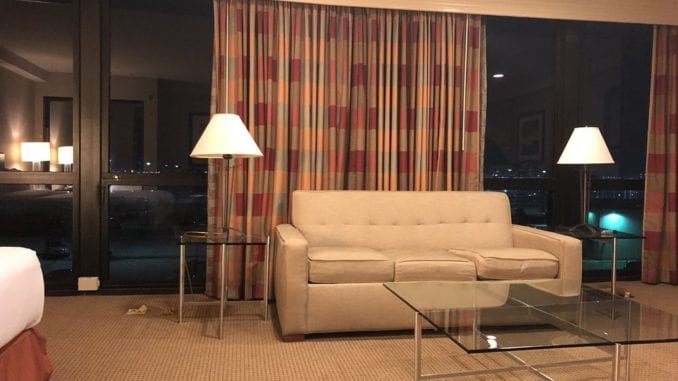 Impressions of Room
I'll level with you – Hilton really should not call the room I stayed in a "suite". It's more like a smallish room with a tiny attached bath.
About the only thing I liked about this room was the bed. Otherwise, it really wasn't all that. Here are a few highlights:
55-inch HDTV
Complimentary WI-FI
Glass coffee table and end tables that you can easily cut yourself on when walking past.
Leather reclining chair
Rollout sofa that turns into a small bed
King-sized bed that was very comfortable
Sound-proof windows so you don't hear the aircraft
Small mini-fridge to store your drinks and snacks
Small bathroom that isn't easy to move around in
Tan carpet that was in disrepair
Single cup coffeemaker with condiments valet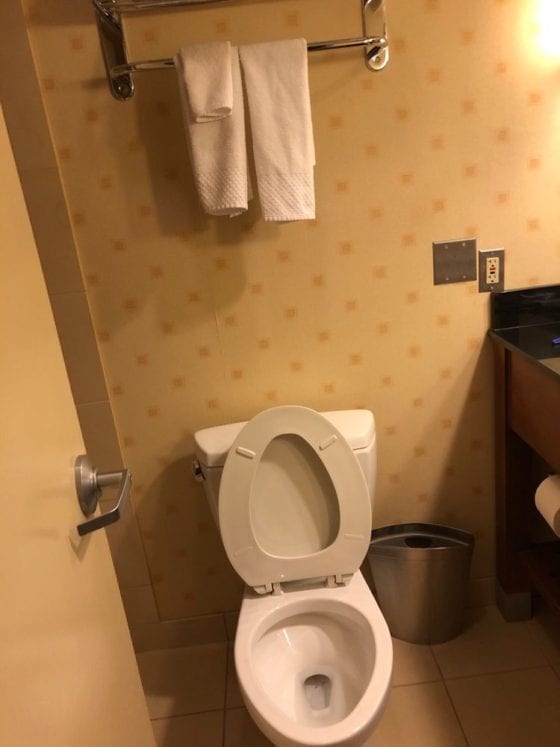 Room Service Experience
When I stayed in this room, I ended up ordering room service. There weren't a lot of healthy choices on the menu, so I called in-room dining and asked about their "soup of the day".
The attendant told me it was spinach and white bean. While certainly tempting, the thought of eating any type of beans a few hours before a long flight just didn't make sense for obvious reasons.
In the end, I ordered a grilled chicken sandwich with fries and a diet Coke. Forty-five minutes after placing my order, the food arrived.
I paid roughly $28.00 for this meal. It is what it is, you know?
TIP: If you make the short walk over to terminal 1 by United's baggage claim, there is a Starbucks that serves sandwiches and baked goods. A cost-effective alternative to in-room dining.
Walking Around The Hotel
Shortly after eating, I decided to take a walk and stretch my legs. Plus, I wanted to get my head straight about where I would be going for a 7:20 am boarding time.
And so that's what I did – a walk around the Hilton.
It was snowing outside super hard and I wanted to step outdoors just to experience the craziness of it all. There are side-doors to this hotel in the lobby, just off the elevators, that allow guests to exit.
Moments after passing through them, a hotel worker walked right up to my face and said, "No smoking within 15 feet of the doors."
But here is the thing – I wasn't smoking. He must have seen the 10-degree air passing from my mouth as I exhaled that gave off a smoke-like appearance.
Not wanting to encounter any problems, I politely told him he was mistaken and that he might want to rethink how he interacts with guests.
As he walked away, he looked back at me, which I found very odd. Did he think I was lying and that I was going to fire up a Marlboro or something? I can't help but wonder how many people he had done this too?
Moving on …
After coming back inside, I made the quick walk from the hotel down to the pedestrian tunnel that connects the Hilton to Terminal 1, which happens to be United's terminal.
In a matter of minutes, I found out where I needed to go in the morning. It couldn't have been easier.
My trial run completed, I went back to my hotel room and turned in for the night. When I awoke at 5 am, the bill was already tucked under my door.
A quick shower, some grooming, and a cup of coffee and I was out the door and on my way to the ticket counter.
Let's go over some of the pluses and minuses for this hotel.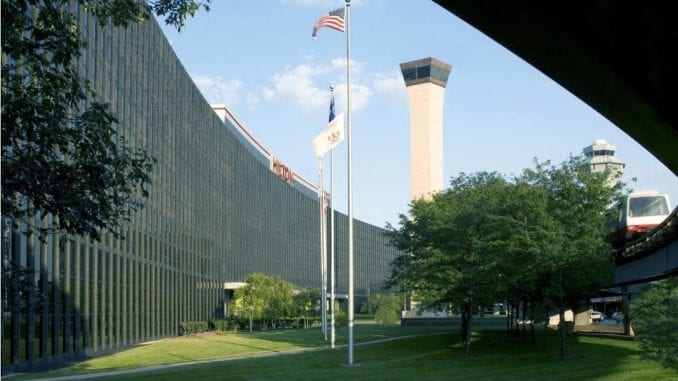 HILTON O'HARE PROS
Ability to take CTA blueline directly to the airport and get dropped off super close to the hotel's entrance.
No need to leave the airport because the domestic departure terminals are attached to underground tunnels that take you right to your air carrier's ticket counter.
The international terminal is accessible from the hotel via O'Hare's transit system (it's a train).
Check-in is relatively easy but not necessarily fast.
Has a decent sized fitness facility onsite
There is a restaurant inside the hotel
Room service is available with morning, evening, and late-night selections.
It has over 860 rooms with lots of choices for room type if you book in advance.
There is a decent size pool to swim in
HILTON O'HARE CONS
You have to look hard to find the escalators from the first floor that take you to the second floor so that you can check-in.
The line to check-in can be very long. There are separate check-ins for Hilton Honors (HH) members that are roped off. But being a HH member doesn't mean a fast check-in because I'm one and it didn't speed things up. In all, it took me 25 minutes to get to the front of the line.
Rooms are positioned on an arch and if you get a room away from the elevators, be prepared for a LONG walk. My room was nearly at the end of the hall.
Onsite convenience store is wickedly overpriced. You are better off buying sodas, water, and snacks at the small shop located in the attached tunnel, located by the entrance.
Is Staying at the Hilton O'Hare Worth the Money?
So, you are probably wondering if I thought the $320.00 price tag was worth it? All I can tell you is that (for the most part) I enjoyed my stay.
What many folks don't realize is that Hilton doesn't actually own this property. Instead, they have a lease from the city of Chicago.
While I can't be sure, I have a feeling the cost of that lease is hefty, given that the occupant will be the only hotel operator on the airport's premises.
Do I think I paid too much? Perhaps. But given everything, I have to say the convenience of staying at the O'Hare was a big plus.
If I had to do it all over again, I probably would. Staying here saved me hours of delayed travel. Moreover, I didn't need to wake up at 3 am in a scramble to get out to ORD for a 7:20 am boarding time.
Well, there you have it. My impressions of this hotel. Have you stayed at the Hilton O'Hare? If so, how did you like it? Please share your thoughts in the comments area below.