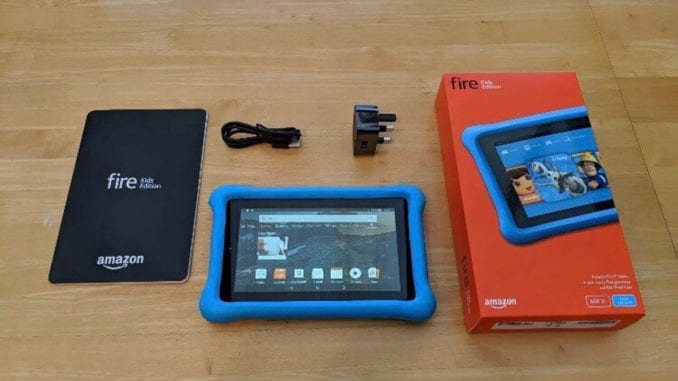 Kindle 7 and Kids: A Closer Look
The Amazon Kindle Fire 7 tablet is cute but powerful, just like your little one. Unlike your toddler, this little tablet is nearly indestructible. It's perfect for all the drops, dings, bangs and bumps your kids are likely to put it through. The Fire 7 for kids also comes with a 2-year warranty, so you don't have to worry about sinking money into a costly device only to see it smashed to pieces on day one.
Many new parents struggle with their child's interaction with technology. Some parents vow to never let their children hold a tablet or smartphone before they reach grade school. Yet, the day will inevitably come when your child is cruising through onscreen menus and apps like a certified professional. It could happen sooner than you think so it's important to get ahead of their momentum.
It helps to think of a tablet for kids as a learning tool that also uses entertainment. The next generation will live in a world dominated by screens and digital interfaces. To deny that our children will log more screen time than any generation before would be illogical. Common Sense Media statistics report that mobile media time for children aged zero to 8 years old has tripled since 2011.
That's why the Amazon Kindle Fire 7 tablet should be considered for new parents with small children. There are larger versions of this tablet on the market – an 8-inch and 10-inch display. Yet, when you take into account the thick display casing, your little one might have trouble keeping a good grip on the device and scrolling through the menus with ease. In this case, smaller is better. The tablet weighs just 390 grams and comes in blue, yellow or pink.
Related: What's the future of video games?
The Amazon Fire 7 Kids Edition isn't just a video player or ebook reader. It's a fully-functional tablet that comes with 16 gigabytes of onboard storage, an available microSD slot, and it's own Fire operating system. The Fire 7 runs with a 1.3GHz quad-core processor inside and it comes with 1GB of RAM. For a kid's tablet, that's more than enough performance power.
https://www.youtube.com/watch?v=Tqpg6FaqVTI
When it comes to battery life, you can count on the Amazon tablet to last about 8 hours with consistent usage. It charges in under 6. There's a stereo jack for headphones, a front-facing camera, and a rear camera, as well. Altogether, it's loaded with some nifty utilities that even parents can use for their mobile needs.
The interface is easy to use and crafted specifically for children. The browser doesn't come with built-in compatibility to Google Chrome though. That means you won't find apps that you're accustomed to using all the time like YouTube, the Google Play Store or Gmail. This could be a serious drawback if your children have a favorite Youtube channel that can't be found on their dedicated device.
Instead, Amazon has partnered with Common Sense Media to curate thousands of websites and content videos that are appropriate for kids. If you find a website that you like or a new app, you can always add to the list in parental controls. Speaking of parental controls, it's never been easier to control what your kids are accessing. First, you set-up a profile for your child. You can have four profiles on any single device. Then, you can get to work setting how many hours they can use the device and which features you'll allow them to access.
One of the most popular features in parental controls allows you to set educational benchmarks for your growing little one. You can restrict them from using any games or videos until they read a certain amount of books, for example. This could be helpful for maintaining their progress, but it could also set parents up for an unwanted public meltdown on the train.
Then, there's "Fire for Kids Unlimited," which is a subscription service that only features kid-friendly content. You get games, books, educational apps and movies by the thousands, all on the Fire 7 tablet. The service comes pre-loaded with 5,000 apps, games, videos, books and educational content from Disney, Nickelodeon, Sesame Street, and more. Your children could spend hours browsing these titles and that provides a valuable bargain for the price of the device itself.
Normally, the service is about $2 per month, but you can run a free trial on Fire for Kids Unlimited. You can test out the service and see if it works for your family. It can be difficult to keep a toddler away from screens and technology. At least the Kindle Fire kids edition and the Kids Unlimited service ensures that the content that they are consuming is educational and specifically geared toward their age range. You can even set up all the parental preferences in just a couple of easy steps. Children will need a parent's permission to access social media or make in-app purchases. So, there are no runaway costs like those your little one might incur on mobile games like Candy Crush and Clash of Clans.
The Takeaway
You might not be able to keep your little one from reaching for your phone or tablet, but at least you can guide their connection to the digital world. The Amazon Kindle Fire 7 Tablet Kids Edition is perfect for doing just that. It's got lots of internal storage, suitable processing speed and two onboard cameras to help you make memories with your child.
At first, not having access to Google apps might present you with a bit of a letdown. You're also locked into Amazon products and services. It's nice to know that your child won't stumble onto the wrong content, but that is one significant drawback for this product. However, the parental controls of this device are spot on.
It's a durable, little tablet, as well. Toddlers can break nearly anything with enough time and effort, but the thick outer casing of this tablet is ready to take a beating. If they do manage to crack it, you also have that 2-year, worry-free warranty to fall back on. Amazon crafted a winner here. So, there's no need to stress about your kid's screen time anymore.
What are your thoughts about this tablet? Feel free to share your comments below.