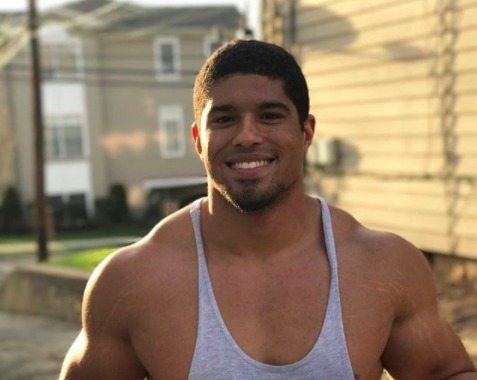 Anthony Bowens Says He's Gay
Anthony Bowens is coming out again, but this time as gay and not as bisexual.
The professional wrestler has been a big advocate for bisexual visibility and against bi-erasure, but it looks like things have changed according to new YouTube and Instagram uploads.
On Instagram, the athlete posted a screenshot of a longer message about his own sexuality.
"Just about two years ago I came out as bisexual which was truly how I viewed myself at the time. However, over the last 6 months or so I've started identify less and less with that label to the point where it doesn't feel like it's 'me' anymore."
Bowens says that he now would prefer it if people referred to him as gay from now on.
Of course, Bowens also published a YouTube video where he could elaborate more on the label change and also address some expected reactions.
"It's on to a new year, a new journey and, apparently, a new label," wrote the 28-year-old athlete.

"The main purpose of this video is to tell everybody that I prefer to be labeled now as gay," he begins. In advance of the reactions he's bracing for, Bowens admits, "There's going to be 'thank you, it's great that you're being open and honest and we love you,' there's going to be the 'well, we knew that,' and there's going to be the 'bi now gay later' people."
Most importantly, Anthony Bowens wanted to express that people shouldn't get angry because he's finding what label he's comfortable using for himself.
"There are some people out there who will use that just because they are afraid to say that they're gay, but not everybody's like that, and I don't think they should be judged for it because everybody has their own way of figuring themselves out," explains Bowen.

"Please don't be a hypocrite," implores Bowen. "I think it's very hypocritical as people who identify as LGBT who get judged by a lot of people about our lifestyle, then turn around and judge others in the same community."
You can watch the YouTube video below.