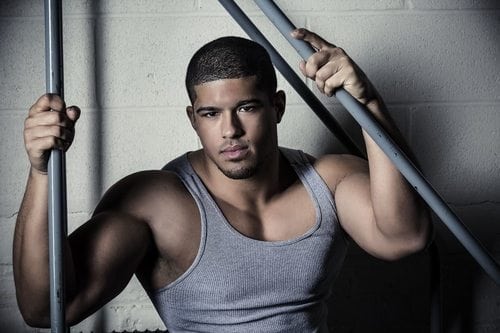 "I look forward to changing perceptions"
Anthony Bowens, a 26-year-old professional wrestler, has come out as bisexual. The disclosure happened as part of a video release on YouTube where he was goofing around with his boyfriend Michael Pavano.
"Mike and I had uploaded a video to YouTube on his channel called 'The Laughing Challenge,' where he described me as his boyfriend,' Bowens explains in an op-ed published by Out Sports."
"The video was a blast to do, but I worried that someone from the wrestling world would stumble across it and learn my secret. I decided to let it be posted anyway."
Several weeks later, Bowen's concerns would become realized when a friend of his contacted him about the video – someone Bowens had hoped would not see it.
As he shared in Out Sports:
"It was from my best friend in the wrestling business, and someone I specifically made sure to keep my secret from. The text read: "Bro, why didn't you tell me?" I knew exactly what he meant but I played dumb. 'What do you mean?' I replied. He response was that he saw 'the video.'
Much to my great relief, he told me he didn't care and that I was one of his best friends in the business.
He also said that some of the other wrestlers had watched it too and tipped him off about it. I was relieved that he was cool with everything but a bit nervous because other wrestlers knew. It was after this that I came to the conclusion that I had a decision to make."
Related: Coming out stories and more
Since the news has officially come out, Bowen has received massive support on social media, particularly from LGBTQ supporters and allies.
Early in his life, the wrestler knew that he was different from others. He shares his memories about this with Out Sports in a way that many LGBTQ persons can relate to.
"Ever since high school I knew that was something different about me. I started to notice that I'd see a couple walk down the street and think how attractive both the guy and the girl were. It would become more prevalent as college rolled around and I found myself with a crappy love life."
In the Out Sports piece, Bowen offers his reasons for coming out and hints that others remain locked inside their closets.
"I can't even begin to tell you how many people I've spoken to over the years who are hiding and suppressing themselves out of fear of being judged.
If I can help inspire at least one person to fight past their struggles through my journey or inspire at least one person to live their dreams, it's all worth it for me. The journey and the fight is just beginning!"
You can read the entire article at Out Sports and learn more about the wrestler, his partner and his hope to create positive change.
h/t: Out Sports