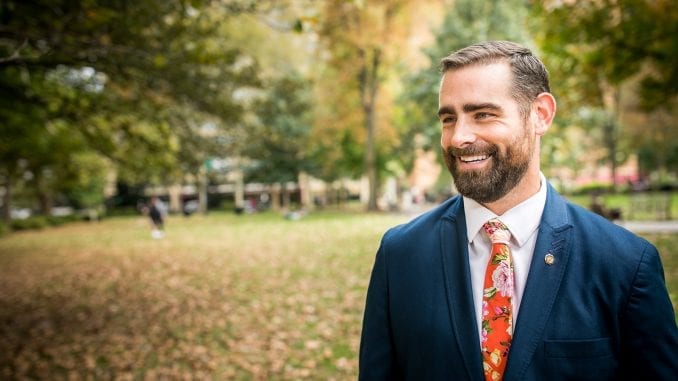 Brian Sims Quick Facts
Brian Sims, media sources love him and Republican politicians hate him. Brian Sims is a Democratic member of the Pennsylvania House of Representatives. Since joining the House in 2011, Sims has had highs and lows in his career. From fighting for LGBTQ rights to his Planned Parenthood controversy, Sims always makes a good headline. But what are some facts about Brian Sim's life? What are some policies that he has supported or pushed? And what is his next, hopeful, political goal? Find all that information and more down below in this Pop Files post.
Pop File: Brian Kendall Sims
Birthday – September 16, 1978
Birth Place: Washington, D.C., U.S.
Zodiac: Virgo
https://www.instagram.com/p/CHvDau7gC_q/
1. He's A Former Athlete Scholar
First off, we have to start and Brian Sims' not so humble beginnings. You see, even before he became a politician, Brian Sims was a man on a mission. It's just that his mission looked very different back in his college days.
Back when he was attending Bloomsburg University, Brian Sims was the co-captain of the school's football team. The team was extremely successful in 2000 and had its longest season ever.
2. He Worked As A Lawyer
But, eventually, everyone has to graduate and move on. Sims moved onto law school and became an attorney. Once he was a working lawyer, Brian Sims worked as the president of Equality Pennsylvania and was also the chairman of Gay and Lesbian Lawyers of Philadelphia.  Before being elected to the House, Sims, an attorney, was president of Equality Pennsylvania and chairman of Gay and Lesbian Lawyers of Philadelphia.
https://www.instagram.com/p/CKeKqXXhNs1/?utm_source=ig_web_copy_link
Related: 8 Facts About 'The Mandalorian' Star Pedro Pascal
3. He's Gay
As you can gather from those earlier mentioned organizations, Brian Sims is gay. And, this is something he is NOT shy about. In fact, he champions being gay in his work and personal life. Back in college, Brian Sims came out while playing football. This made him the first openly gay college football captain in NCAA history. Sims also released campaign photos of himself and his then-boyfriend Brandon McMullin. He then told reporters that releasing the photos was a sign of bravery and LGBTQ-solidarity.
"Before I first ran for office, among the prevailing advice I often heard about LGBT candidates is that they should avoid including their spouses in campaign literature," Sims told the Advocate in 2017. "The exact phrasing may have varied a bit, but in the end it was a form of 'your partner is great, but don't put same-sex couple photos on campaign literature or you'll alienate voters.'"
"I always understood what they were saying but it was so frustrating to be fighting to elect out, proud advocates of the LGBT community while simultaneously telling them it's in their best interest to shy away from who they are. For so many of today's LGBT candidates, that's happily no longer a reality and frankly, if you've met me, you know that I've always had a tough time not being who I am."
4. He's Single
Unfortunately, Brian Sims' relationship with McMullin didn't last. And now, the politician is single. Though, he says looking for love during the coronavirus pandemic has been hard.
"Trying to find love during a global pandemic is pretty complicated most days," Sims tweeted back in August. "Yeah I want to go to movies and restaurants again too, but talk to me about holding hands, weekend adventures, and meeting my dog."
https://www.instagram.com/p/CDJhZqJhmQ9/
5. LGBTQ-Focused Policies
But what about his actual policies? What does Brian Sims stand for as a politician? Well, Sims stands on a platform of supporting Women's Rights and LGBTQ Rights. He currently represents several neighborhoods in Philadelphia including Rittenhouse, Fitler and Logan Squares, the Gayborhood, and parts of Washington Square West, Bella Vista, Hawthorne, and East Passyunk.
As a member of the state House of Representatives, Sims acts as chair of LGBTQ Caucus, has called for an end to conversion therapy, has supported the expansion of pre-exposure prophylaxis, or PrEP, and has promoted finding alternative sources for energy. Sims has also pushed for COVID-19 support to local communities and called out his peers who have taken the pandemic lightly. Lastly, Sims lobbied U.S. Senators Bob Casey (D-Pa.) and Pat Toomey (R-Pa.) to publicly support marriage equality and the LGBT-inclusive Employment Nondiscrimination Act (ENDA), respectively.
6. Republicans Hate Him
Again, Brian Sims is a vocal Democratic voice. And because of that, he has gained many enemies within the Republican Party. This includes one-time going viral for flipping former Vice President Mike Pence the bird. In addition, MAGA activist Brendon Dilley went viral for going after Sims. Unfortunately for him, he wasn't thinking when he ranted about the politicians. He then stated that he wanted to watch Sims have sex.
"This dude is not gay. I'm telling you," Dilley says in the above clip. "We should fucking demand to see him suck a dick before we believe he's gay."
MAGA activist Brenden Dilley insists that Pennsylvania state Rep. Brian Sims is not really gay and challenges him to "suck a dick" to prove otherwise. pic.twitter.com/qq6YLhAaJA

— Right Wing Watch (@RightWingWatch) May 10, 2019
Related: 8 Facts About NY Giants Quarterback Daniel Jones
7. Planned Parenthood Controversy
Unfortunately, Brian Sims hasn't always gotten it right. Sometimes, he has messed up in his fight for LGBTQ and women's rights.
Three years ago, Brian Sims recorded, and posted to social media, a video of himself heckling protesters outside of Planned Parenthood within his district. It was later revealed that those protesters were teenager. The story trended online and led to major criticism pointed towards Sims. Some of his GOP colleagues even threatened Sims with censure for the incident.
"Bring it, Bible Bullies," Sims tweeted as a response to the criticism. Though, a few months later, he privately apologized to the teens.
8. He Donated A Kidney
But Brian Sims isn't always fighting for political agendas. He's sometimes a donates a kidneys to neighbors too. Specifically, Sims donated a kidney to a man he knew at the start of 2020.
"In late January I secretly donated a kidney to a person who lives about 10 blocks from me in the City," he shared in a tweet. "He was dying of renal failure and I turned out to be a near perfect match. I spent several days in the hospital and several days with fifth a friend before returning home."
"My recipient began to improve almost immediately and his long term prognosis is strong, and none of this was ever supposed to be public. People are cynical, especially about politics. And so I decided to share the donation with only my friends, staff, and family."
My recipient began to improve almost immediately and his long term prognosis is strong, and none of this was ever supposed to be public. People are cynical, especially about politics. And so I decided to share the donation with only my friends, staff, and family.

— Brian Sims (@BrianSimsPA) May 27, 2020
9. Running For Lieutenant Governor
But what's next for Brian Sims? Well, the openly gay politician shared that he is running for Pennsylvania Lieutenant Governor.
"We need adults in the room, and I want to bring bold, visionary leadership based on lived experiences to the commonwealth," Sims said in a video posted to social media.
Sims has now joined what will be a crowded field for Pennsylvania politics. Not only is the Lt. Governor spot open, but so is the Governor spot and a U.S. Senate seat that will represent Pennsylvania. Will Brian Sims have what it takes to win one of those hotly contested positions? We'll see!
After 10 years in the State House, I've taken the lessons that my parents taught me & reinforced them in my work as a legislator: to take responsibility, commit to service, be courageous, & push for fairness.

I'm ready to take these values to lead the Commonwealth. pic.twitter.com/lcNmYQghgr

— Brian Sims (@BrianSimsPA) February 15, 2021