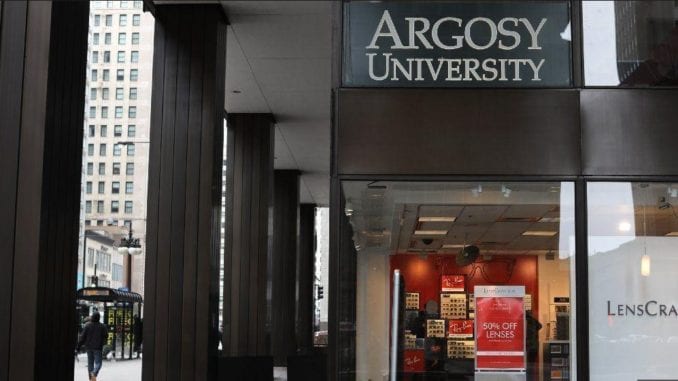 Trending News: Here's what to do if you went to Argosy
Argosy University, with nearly 26,000 students nationwide, rapidly shut down this week, leaving many students scrambling. Some learners are trying to transfer into new schools while alumni are exploring options for transcript preservation.
Men's Variety spoke to several students impacted by the closing with the goal of providing options for impacted parties. We also talked to an education expert.
"I'm still in a state of shock this happened. To think that in the United States, a fully accredited school could just close its doors overnight is almost unbelievable," said Anthony Staso, a Channahon , Illinois adult learner who works part-time as an exterminator.
Michelle Arbogast who was a doctoral student in the business school, took to Facebook to share her grief and outrage." I feel terrible for the time I have taken from my family and friends to complete this program. I don't even know if this work will be able to transfer," she said.
Graduates of the school, many of whom are licensed in various health fields, are at a loss for words. "I feel like a bunch of greedy executives walked in, lined up their pockets, and then bolted out the door – blindsiding everyone," said Dinah Farquii, a 2015 graduate of the school's master in community counseling program.
"Next year, I was planning on earning a doctorate. I don't even know if I can get transcripts, let alone if a school will accept them," she said.
While some blame school officials and the U.S. Department of Education for the school's demise, many who have been left in Argosy's wake are trying to figure out their options.
Transfer Options
"If you are a student, I highly encourage you to head on over to Argosy's website – while it is still active – and look at the different agreements in place for transfers," said Andrew Howard, an education analyst with TPG Consulting in Chicago. "Many of the pathways to matriculation may be time sensitive so I wouldn't put it off too long," he adds.
Indeed, Argosy University hastily updated their landing page late on Friday with a master link to Dream Center Education Holdings "partner institutions".
Specifics on how credits might transfer, how many would be accepted, and application deadlines were not shared on the page.
"You have to go identify which school best fits the program you were in and reach out to a school enrollment representative and ask questions," said Howard. "It's all about what type of degree you were attempting to earn. Most schools will try to be as accommodating as possible," he adds.
In an effort to help, some recruiters have taken to social media to find Argosy learners and provide options. "Good morning everyone, I've heard the unfortunate news relating to Argosy. Being an alumni here myself, I'm very upset with the situation at hand. Fortunately, we're providing an amazing opportunity for Argosy students here at Northcentral University. If you're looking to finish your degree," wrote Austin Gannon, an enrollment specialist with North Central University on Facebook.
The American Psychological Association (APA) has created an
extensive information page
for students and graduates of Argosy; an organization that had accredited the school's doctorate in psychology program.
The page urges credential banking for psychology learners specifically. "Submitting documentation about your internship, doctoral degree, postdoc and other credentials to a central repository for verification and storage can offer peace of mind as well as convenience," it reads.
Order Transcripts Now
Howard with TPG consulting explains what credential banking means. "Think of it as an official way to have your transcripts stored by an organization that can attest to their authenticity," he says. "This service could come in mighty handy for learners who wish to apply for licensure or want to port their license to another state. Obviously, there are no guarantees, but you'd have to be a fool not to do this," he says.
"And for anyone ordering transcripts from the school, do not open the envelope," urges Howard. "Once the seal is broken, the transcripts are no good. Just store them in a safe, dry place. The more copies you order the better because they have to last you a lifetime," he adds.
Anthony Staso, mentioned at the beginning of this piece, said he was ordering 10 copies of his transcripts.
"They don't say it on the website but you just know they are going to ask for money for the transcripts. I'll go through the process of requesting mine but I'm confident the SOBs will want a check or credit card. What dirt-bags for doing this to students," he says.
Men's Variety has learned that a group of current students and faculty have come together in an information sharing group on Facebook group called Argosy Action.