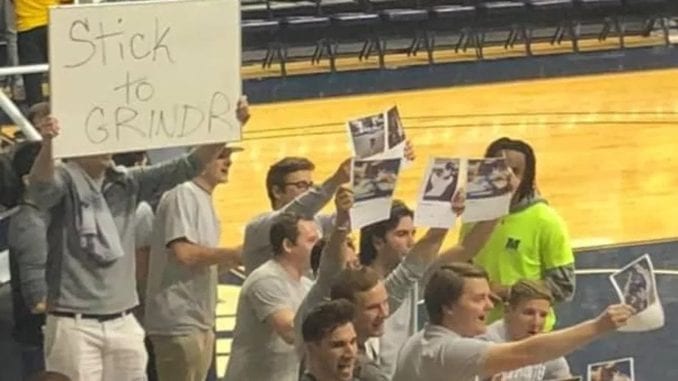 A New Jersey university is currently conducting an investigation after an anti-gay sign was used during a basketball game.
According to NJ Advance Media, the president of Monmouth University has announced an investigation into "highly offensive actions" taken during a basketball game against Siena College this past Friday night. It appears that several students held up printed copies of a Siena player's profile from a dating app. According to NBC News and the Asbury Park Press, the profile pictures came from Tinder. Then one student held up a sign saying, "Stick to GRINDR," referencing the gay hookup/dating app.
Ironically and unfortunately, this incident happened just two days after a Gay Pride Night was held at a Monmouth University men's basketball game. But as an almost immediate karmic reaction, the Monmouth Hawks ended up losing to the Siena Saints, 86-72. Then after the game, many crowd members posted about the scene on social media. This eventually led to the university's administration getting involved.
Patrick Leahy, the university president, released a statement this past Monday saying that the administration had been "made aware of highly offensive actions by several members of our student body directed at players on the opposing team."
"Please be assured that we are working swiftly to gather additional details and to directly address the behavior with those involved," he added in the statement. "We value every member of our campus community. Strong and inclusive communities are built on a bond of trust. When that bond is broken, we take it very seriously. Discrimination of any kind will not be tolerated on this campus."
A message to the Monmouth University community yesterday. pic.twitter.com/gqntsrffUl

— Patrick F. Leahy (@PatrickFLeahy) March 8, 2020
Meanwhile, Siena College stated, through spokeswoman Lisa Witkowski, that the school is waiting on the findings from Monmouth inquiry before getting involved.
Despite that announcement, there was a reaction of outrage at the administration. Some social media users argued that the university would not properly punish the students. Amongst them, many are calling for expulsion.
"These students need to be expelled from Monmouth University and held accountable for their actions," tweeted Alexander Pescarino, an openly-gay college student. "They need to understand that everything they do will have consequences."
"So what is going to happen to the offending students?" asked another Twitter user. "You're a little vague on whether they're going to be punished at all. Expulsion seems appropriate."
One Twitter user even shared a picture of Leahy at the game on the night of the incident. He has yet to comment on this.
https://twitter.com/lexrkremer/status/1237435617706946561?s=20
It wasn't just "highly offensive." It was homophobic, discriminatory, and qualifies as harassment.

— Eric Rosswood (@LGBT_Activist) March 9, 2020
Expel them.

— Tú lucha es mi lucha (@PigmentsnPixels) March 10, 2020
This is such a heartbreaking and disturbing story. Homophobia disguised as school spirit. Kick every one of those bullies out of school. Every. Single. One. Name them. Let them know what it feels like to be shamed.

— Homo Sapien (@chicagoy10) March 10, 2020
We'll be waiting for word of their expulsion.

— Shawn Dean (@sdean78) March 10, 2020
Expel them. These students have the opportunity to be part of an esteemed university, full of resources and these are hateful acts they decide to involve themselves in.
A horrible representation of the student spirit on campus.

— Tim Bzt (@TimTimBzt) March 10, 2020
Sources: NJ.com, NBC News, Asbury Park Press