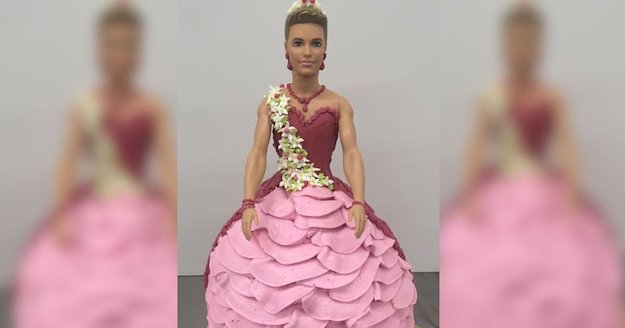 Homophobic and Transphobic hatred directed at bakery.
A very popular bakery in Northern California has been caught up in a heated debate on social media regarding a transgender "Ken Doll Cake" that was made for a customer.
Sacramento, California's Freeport Bakery posted a picture to its Facebook page several weeks ago showing a special ordered cake that featured Ken wearing a pink, puffy dress, tiara and flowery sash.
The cake caused outrage by some who were offended at how Ken was being depicted – with some people calling it "truly disgusting" and making disparaging remarks about the bakery.
"Naively, I guess I just thought this is a really cool cake, and look at how great they did with the butter cream," Marlene Goetzeler, co-owner of the bakery, told Fox affiliate KTXL. "What's wrong with a Ken cake?"
Walter and Marlene Goetzeler purchased Freeport Bakery back in 1987 and grew it into a successful business, according to their website. In recent years, it was named "Best Bakery" by Sacramento Magazine readers.
After Freeport Bakery uploaded the photo on August 13, Marlene Goetzeler stated she noticed negative comments being posted and that she was losing Facebook fans.
They tried to delete the hateful comments initially because they didn't want "drama". Now, only a handful of negative comments remain with the picture.
Apparently, some of the haters decided to take their comments down as well, once they saw LGBTQ supporters chime in.
"I was shocked that somebody would be offended," Marlene Goetzeler told KTXL.
"A customer requested a Ken doll cake and we were happy to make it; she loved the cake when she picked it up," Walter and Marlene Goetzeler said in a statement.
"We were especially proud of its buttercream detail so we decided to post a photo of it on our Facebook page, as we do with many of the cakes we design and adore. We got some lovely responses along with some negative feedback."
"We reposted the picture asking for support from our Facebook friends," the owners said. "Luckily, we have received that support and so much more from our fans, devoted customers and staff."
The past week, supporters have been asking Freeport Bakery's owners to "ignore the haters."
"Amazing!" one wrote. "Love this bakery and love that you are inclusive and welcome ALL."
Another added: "With a lot (of) news reports saying in other states refusing to make wedding cakes for same-sex marriages, you make me proud to live in a diverse and accepting community! You have my support!"
One person said such a controversy over a cake was "silly."
"By society's definition I'm transgender and that fact is I am also human," the commenter wrote. "We as an educated society should stop acting so ignorant.
We should be more civilized than this. Don't hate the creator of the cake because for those who are religious and take offense would you hate our creator God? Remember God makes no mistakes. As true as that is I say he has quite the sense of humor when he created me."
h/t The Star
—
By: Brian Hollywood