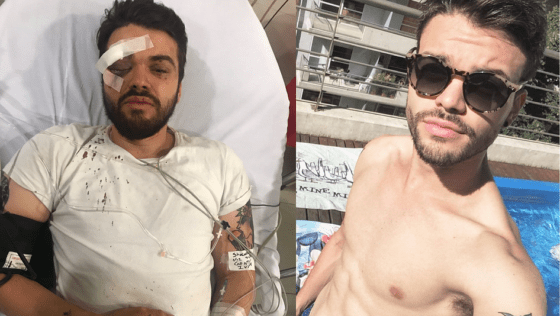 Beaten By Seven Men Outside a McDonalds
A gay man is left in the hospital after being beaten by seven men outside a McDonalds.
Jonathan Uriel Castellari and his friend Sebastián Sierra were ordering food at a McDonalds in Córdoba, Argentina around 6:30 in the morning when a group of men started to pick on them.
The men yelled out the slur "putos," which translates literally to mean a male whore or sex worker but in this context was used to make fun of the two for being gay.
Once Castellari tried to exit with his friend, Sierra was grabbed by two men while the rest beat up Catellari.
After the assault, he was rushed to a local medical building called Sanatorio Güemes.
En la primera foto estabamos esperando la comida felices luego de una noche muy divertida. En la segunda foto mi mejor amigo después de haber sido atacado por un grupo de 7 heteros envalentonados y con ganas de palear putos. pic.twitter.com/naIMSGhRxo

— The Real Tucán (@sebasierra90s) December 1, 2017
Catellari later went to Facebook to share his thoughts on the incident and the well wishes he received afterwards.
"After a horrible day, laying down in a stretcher, full of cables, needles and with one eye closed and the other one in tears, I wanted to say thank you for all the messages that received, messages full of love."

"Those messages are the hope that I have to keep fighting for a society free of homophobia."

"Same as others, I dream of a diverse society where respect for everyone exists."

"Today I will go to sleep very sad, anxious and in pain, but that pain is not physical – it has nothing to do with the punches."

"My soul hurts because experienced what everyday I work to eradicate – violence, discrimination and sexism… The only thing I am sure about it is that I will keep working to make sure nobody has to experience something like that."
Secretariat of Human Rights and Cultural Pluralism tweeted: "We strongly condemn the violent attack… We have been available to his family and club. We expect rapid and forceful intervention by the justice."