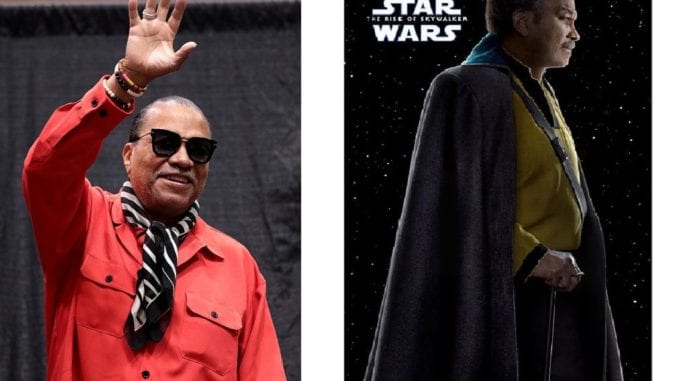 Billy Dee Williams
Billy Dee Williams is the man of the Star Wars hour. But is that a good thing?
Last week, Billy Dee Williams made headlines as news sources started saying that the Star Wars actor had come out as gender fluid. Williams is best known for his role of Lando Carlissian in Star Wars: The Empire Strikes Back. And now, the actor is returning for the upcoming Star Wars: The Rise of Skywalker.
In preparation of that, Billy Dee Williams has been making the rounds with news sources and being interviewed on a series of topics. Williams' troubles, however, first started with Esquire Magazine. Talking to Esquire, Williams shared that he tries not to limit himself in expressing his masculine and feminine sides.
"I never tried to be anything except myself. I think of myself as a relatively colorful character who doesn't take himself or herself seriously… And you see I say 'himself' and 'herself,' because I also see myself as feminine as well as masculine," the actor explained. "I'm a very soft person. I'm not afraid to show that side of myself."
The interviewer then brought up Donald Glover's performance as a younger Lando in 2018's Solo: A Star Wars Story. Glover had decided to play Lando's gender fluidity up. In addition, he had decided that Lando Carlissian was pansexual.
"Really? That kid is brilliant — just look at those videos," Williams said, referencing Glover's music video "This is America."
Williams Sets The Record Straight
But unfortunately, Williams has now gone back on his words in that interview.
After hearing his words on showing feminity, social media users and news reporters incorrectly assumed that Billy Dee Williams had come out as gender fluid.
Billy Dee talks about his gender self-conception a little in Esquire: https://t.co/QTR8YT3T6B pic.twitter.com/0u3hHmN2ZA

— jere😷my (@jere7my) November 26, 2019
He then decided to correct them while talking to The Undefeated.
"Well, first of all, I asked last night. I said, 'What the hell is gender fluid?' That's a whole new term," Williams told The Undefeated. "But what I was talking about was about men getting in touch with their softer side of themselves."
He then added, before clarifying that he identifies as a straight man:
"There's a phrase that was coined by Carl G. Jung, who was a psychiatrist, who was a contemporary of Sigmund Freud, and they had a splitting of the ways because they had different ideas about the…what do you call it? Consciousness. Unconscious. It's collective unconsciousness. But he coined a phrase that's, 'Anima animus.' And anima means that is the female counterpart of the male self, and the animus is the male counterpart of the female. So, that's what I was referring to. I was talking about men getting in touch with the female side of themselves. I wasn't talking about sex, I wasn't talking about being gay or straight. People should read [Jung]. I mean, it would be an interesting education for a lot of people."
"No, no, no, I'm not gay—by any stretch of the imagination. Not that I have anything against gay people. But personally? Not gay," Williams concluded.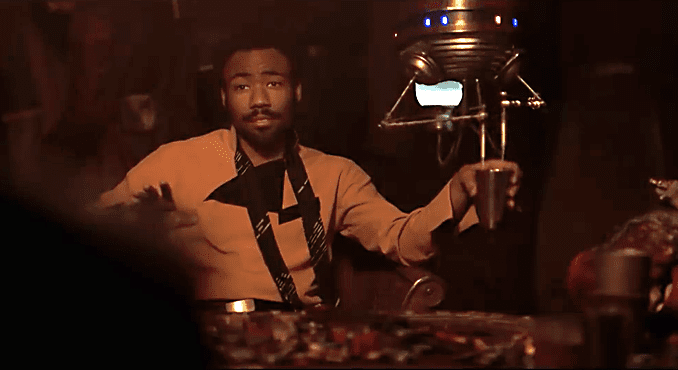 Pansexual Lando Too?
And now, an even more recent development shows that Billy Dee Williams no longer supports the idea of a pansexual Lando Carlissian. Or the idea that Lando may have been in love with his robot companion.
While talking to The Rolling Stone, Williams shares that the problem with the new Star Wars films is that they are too politically charged. He wishes they'd focus on just being adventure stories.
"I think that's the reason they didn't have the success they could have had," he told Rolling Stone. "Because they were going for something that was topical, instead of an adventure that's far beyond those questions."
"If you're talking about this huge, incredible story, why lock yourself into this tiny moment between a character like Lando and his robot friend?"
And again, Billy Dee Williams updated his perspective on the Donald Glover interpretation of Lando. He now says he appreciates the artist but not the art. Williams even critiques the way Glover and Solo's crew styled Glover's hair.
"To me, I'm Lando," he said. "I love that Donald Glover. He's a brilliant young. But his hair was not how I thought of Lando. He was more Afrocentric with his hair. I have nothing against that. But when I created Lando, he was beyond all of that."
Billy Dee Williams has seen himself in a whirlwind of headlines this past week and a half. From ups to downs and back again. How will Star Wars fans and LGBTQ people respond to Williams' latest comments? Let us know your thoughts down below.