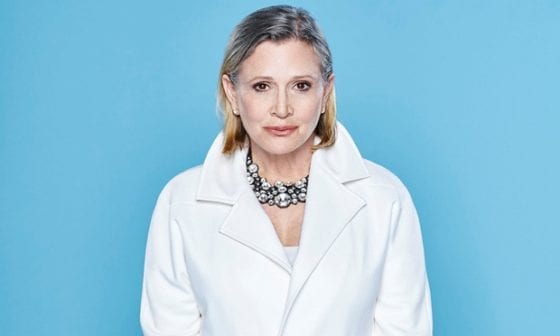 She will be dearly missed.
Carrie Fisher, the actress best known for her role as Princess Leia in the Star Wars franchise, has passed away. She was 60 years old.
Last week, she suffered what has been described as a massive heart attack on a flight from London to Los Angeles.
The gay friendly actress experienced the "cardiac episode around 15 minutes before her flight was scheduled to land. There was an EMT on board who administered CPR until the aircraft was able to get onto the runway and to the gate. She was immediately rushed to the hospital.
Related: George Michael dead at 53
"It is with a very deep sadness that Billie Lourd confirms that her beloved mother Carrie Fisher passed away at 8:55 this morning," Simon Halls, a spokesperson for Fisher's family, said in a statement to People Magazine.
Below is reporting from the LA Times via a Tweet:
Carrie Fisher, "Star Wars" actress, screenwriter and author, has died at 60 https://t.co/bCuHGAfQgP pic.twitter.com/xH65gXpx72

— Los Angeles Times (@latimes) December 27, 2016
Fisher, who most recently appeared in the blockbuster movie, Star Wars: The Force Awakens, is survived by her mother, Debbie Reynolds, daughter, Lourd, and her much loved French bulldog, Gary.
Fisher was born on October 21, 1956 in Beverly Hills, California. In addition to her role as Princess Leia, she also was a screenwriter, author, producer, and speaker.
The following appears on her
Wikipedia
page:
"In her 2016 autobiography, The Princess Diarist, Fisher alleged that she and Harrison Ford had a three-month affair during the filming of Star Wars in 1976.
Fisher dated musician Paul Simon from 1977 until 1983. In 1980, she was briefly engaged to Canadian actor and comedian Dan Aykroyd, who proposed on the set of their film The Blues Brothers. She said: "We had rings, we got blood tests, the whole shot. But then I got back together with Paul Simon."
Fisher was married to Simon from August 1983 to July 1984, and they dated again for a time after their divorce. During their marriage, she appeared in Simon's music video for the song "Rene and Georgette Magritte with Their Dog after the War". Simon's song "Hearts and Bones" is about their relationship.
Subsequently, she had a relationship with Creative Artists Agency principal and talent agent Bryan Lourd. They had one child together, Billie Catherine Lourd (born July 17, 1992).
Eddie Fisher states in his autobiography (Been There Done That) his granddaughter's name is Catherine Fisher Lourd and her nickname is "Billy". The couple's relationship ended when Lourd left to be in a relationship with a man. Though Fisher described Lourd as her second husband in interviews, according to a 2004 profile of the actress and writer, she and Lourd were never legally married.
Fisher also had a close relationship with James Blunt. While working on his album Back to Bedlam in 2003, Blunt spent much of his time at Fisher's residence.
Fisher described herself as an "enthusiastic agnostic who would be happy to be shown that there is a God". She was raised Protestant, but often attended Jewish services, the faith of her father, with Orthodox friends.
She was a spokesperson for Jenny Craig, Inc. weight loss television ads that aired in January 2011."