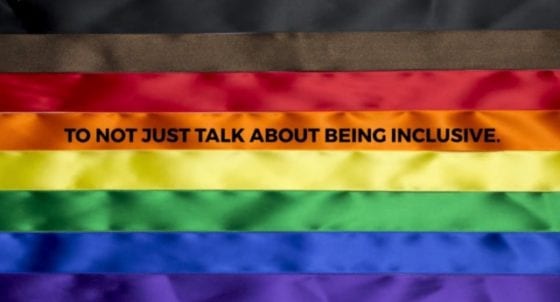 Add Black and Brown to the Rainbow Flag?
A new campaign has appeared in the last couple of days and wants to address racism in the gay community.
Specifically, the way that it wants to have this conversation of racism and inclusion is by adding two new colors to the iconic rainbow flag.
A Philadelphia based campaign titled "More Color, More Pride" wants to add black and brown to the already six colored flag that is the symbol of the LGBTQ community.
The idea is that the community is so separated and split that additional colors are needed to remind us all that we must continue to fight against exclusion.
The colors brown and black are specifically chosen to remind us all of the people of color that make up the LGBTQ community. In addition, it shines a light on the often white male driven society.
The campaign's website says:
"To fuel this important conversation, we've expanded the colors of the flag to include black and brown. It may seem like a small step. But together we can make big strides toward a truly inclusive community."
The rainbow flag was initially designed by Gilbert Baker back in 1978 and at first had eight colors. Hot Pink and turquoise were eventually removed because of the fact that dyes for those colors were hard to come by.
In addition, the remaining six colors represented different aspects and ideals of the gay community. Red was for life, orange meant healing, yellow equated for sunlight, green went with nature, indigo meant harmony, and violet represented spirit.
Plus, the two axed colors of hot pink and turquoise represented sexuality and magic/art respectively.
More: 7 Reasons Why Our Gay Hookup Culture Sucks!
As for why groups in Philadelphia may feel the need to suggest adding black and brown to the rainbow flag, there have been several public cases of racism in Philadelphia's Gayborhood in the past few years.
Multiple club owners in the Gayborhood (which are arguably the biggest clubs in the city) have publicly shown racist tendencies. For instance, the owner of ICandy was filmed saying the N word and Woodies faced controversy over banning clothing typically worn by black men in Philly.
A city report even stated earlier this year that people of color, women, and transgender people felt unwelcome and unsafe in the Gayborhood.
That said, actions like this campaign are taking place to create a more diverse and welcome experience for all members of the LGTBQ community.
In addition to the report, the Philadelphia Commission on Human Relations has recommended racial bias training for bars and nonprofits. If organizations do not cooperate, they could be faced with punishments and legal action.
So, do you agree with adding black and brown to the rainbow flag?