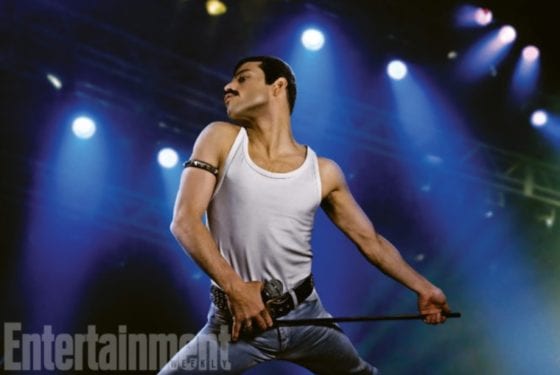 Bohemian Rhapsody Cast Reacts To Film Controversy
For several months now, many people have wondered and asked the same question. "Is Bohemian Rhapsody gay enough?"
Ever since the first trailer for the Queen bio pic dropped, fans of the iconic music group have worried on whether front man and lead character Freddie Mercury would be portrayed wrong.
Despite Mercury being a fairly private man, his bisexuality and death to HIV/AIDS has been common knowledge for years.
But fans are worried that the direction of the film, initially by the now ostracized Bryan Singer, will skip over the fact that Freddie Mercury died of AIDS and that he was an LGBTQ figure.
Now with the film right on the edge of premiering, the cast of Bohemian Rhapsody are sharing their thoughts on the "Gay Enough?" controversy.
Talking to New Now Next, the cast says that Freddie's sexuality will be explored.
"So many aspects of Freddie's life are portrayed here, and the band's life. All the intimate aspects as well. It's all there," said lead actor Rami Malek.
Fellow actor Gwilym Lee then added, "I think that's the big thing about it. It's not straight forward. It's complicated. Trying to work out your identity, no matter who you are, is really complicated. But I think this film kind of explores that journey."
"But also kind of explores the need not to do that," cast mate Lucy Boynton told New Now Next, "Freddie Mercury is the perfect example of someone who seemingly so effortlessly defied the labels and the boxes that people constantly try put you in in order to understand you in terms of their world. And so I think he, especially in this film, kind of encourages you to realize that you don't have to do that."
So, it seems that the controversy can finally end as the cast have said it themselves. Freddie Mercury's sexuality will be explored in the film but it won't be about labels.
If you want to hear more on the staff's, specifically film producer Graham King's, thoughts on diversity and LGBTQ identity in film, head over to Lamar Dawson's and New Now Next's coverage of Bohemian Rhapsody.
h/t: New Now Next