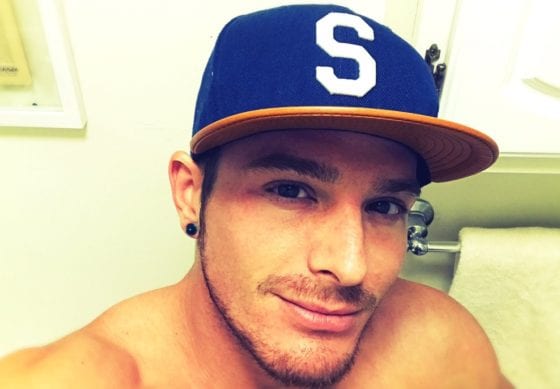 Brent Corrigan Facts
Brent Corrigan (real name Sean Paul Lockhart) is an American film actor and director (adult and mainstream) with a name that is well known to gay men.
But beyond his various movies, what do you really know about him? For example, where's he from and what's his background?
This article is designed to give you a more holistic view of Brent Corrigan so that you can better understand the man. What follows are 25 facts on Corrigan that might surprise you.
Along the way, we've included several photographs to enhance your learning experience.
Are you ready to learn more about Brent Corrigan? Let's jump right in!
https://www.instagram.com/p/BtLx6Fmg5PE/
Pop File: Brent Corrigan
Birthname: Sean Paul Lockhart
Birthday: October 31, 1986, Lewiston, ID
Zodiac Sign: Scorpio Male
Height: 5'6
Eye Color: Brown with hazel tint
Shoe Size: 10.5 W
https://www.instagram.com/p/BrBCtrwgZpn/
1. Brent Corrigan was born on Halloween; 31 October, 1986. Brent joked about this in interview with Grab Magazine and added that he was conceived during Valentine's Day Week.
2. His mother was a ski instructor in Idaho, according to public reports.
3. He and his four siblings were raised in Mill Creek, Washington; a suburb just outside of Seattle.
4. His mom moved to San Diego after divorcing his step-father. Later, Brent would move in with her as a teen.
5. At 16, he started to come to terms with his sexuality. In an interview appearing on YouTube with Jeff Justice, he had an older boyfriend he'd visit in LA who showed him the "gay scene" – something he had difficulty adjusting to.
https://www.instagram.com/p/BTSd7P1jDQt/?taken-by=itsbrentcorrigan&hl=en
6. At the age of 17, according to reports, his boyfriend introduced him to the gay adult film industry. This was during a time of his life when he felt there were few prospects.
7. Lockhart began his career in adult video in 2004 at the age of seventeen. He used stage names of Brent Corrigan and Fox Ryder.
8. His first film using the name "Brent Corrigan" called Every Poolboy's Dream and played the part of a young, twink model.
9. Many of his films were made with Cobra Video; a company that was featured in the movie starring James Franco, King Cobra.
10. In total, he was featured in 27 gay adult films during his career. He directed four.
https://www.instagram.com/p/BZ85I4Xn-cb/?hl=en&taken-by=itsbrentcorrigan
11. In September 2005, Lockhart went public that he was under 18 when he made his first films; below the legal age of consent to appear in adult film.
12. His first four movies were removed voluntarily from circulation by Cobra Video through their exclusive distributor, Pacific Sun Entertainment.
13. In an interview with Gay Monkey Magazine in 2006, after he launched his own production company, he claimed to be the youngest producer in the history of gay adult film.
14. He's a safer sex advocate. In interview with Chicago's GoPride from 2008, Lockhart revealed he had consented to doing bareback as he was falsely informed he was being "protected through the paring of partners. In that interview, he encouraged gay men to engage in protected encounters.
15. in 2008, he received a Golden Dickie Award for being the "Best Twink Performer, Bottom". Other awards would follow.
https://www.instagram.com/p/BqaHZBngSkT/
16. He likes spending time outdoors – in nature.
17. He owned his own adult website that started in 2012 and ended in 2016 called The New Brent Corrigan. According to an interview he gave with Grab Magazine, the site will relaunch over Memorial Weekend, 2017.
18. Lockhart has appeared in several non-adult film movies. Most notably as one of the people on the telephone in Gus Van Sant's Milk, based on the biography of Harvey Milk.
19. He's quoted as saying: "Part of life, it seems, is starting over again and again, each time a little smarter than the last. It's frustrating but and I'm guessing here ultimately rewarding."
20. Lockhart also has appeared on TV. He was in the television series Red Hot Star in 2006.  He also was on a TV talk show IrisTV 2009 exclusive, Brent Corrigan at Iris.
https://www.instagram.com/p/Bn7aYsxn9WB/
21. Corrigan is of Scottish and Irish decent.
22. Lockhart is a "huge fan" of Another Gay Movie (2006) and gained his desired role to play 'Stan the Merman' in the 2008 feature Another Gay Sequel: Gays Gone Wild (see interview).
23. He's a huge lover of horses and had the name of "Pony Boy" in school. When he first started out in adult film, he kept his interest in them quiet because he didn't want people making dirty jokes.
24. One of his most popular movies was Velvet Mafia that starred another well-known adult film star, Matthew Rush.
25. He has never watched King Cobra and condemned it, claiming that it bastardized the story of his life.
—
Visit his Twitter page to keep up with all things Brent Corrigan (Sean Paul Lockhart).