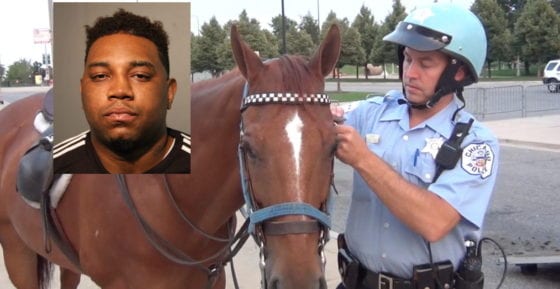 Arrested and locked up for slapping a horse in the face
After each year's pride festivities, we've grown accustomed to hearing stories that range from the absurd to the ridiculous.
But we've never seen anything like this.
According to local crime watch website, CWBChicago, a man was arrested for allegedly slapping a Chicago police horse in the face after the Pride Parade.
"A 35-year-old South Chicago man is facing reckless conduct charges for allegedly slapping a Chicago Police Department horse in the face after last weekend's Pride Parade.

Darius Jackson was at Belmont and Halsted around 12:45 AM Monday when he slapped the horse in its face causing the animal to "act erratically and back into a crowd – putting citizens in danger of being stepped on and kicked by the horse," according to police."
If you have ever been to Chicago, you have likely seen these beautiful horses on city streets. They are among the gentlest creatures of the world.
Related: Chicago man gay bashed at Chicago Pride
During Pride, officers will sometimes let the horses interact with the crowd, allowing patrons to pet and interact. They have become a favorite of all who attend.
While certainly cute, the horses are really used to provide police officers a way to get into places that might not otherwise be possible.
Below is a video that gives you some history of the Chicago Police Department's Mounted Unit. Notice how these beautiful animals interact with the public.
We are speechless as to why anyone would ever slap a horse in the face – for any reason. Apparently, there have been other incidents where people have slapped horses.
A woman was arrested earlier this year for allegedly slapping a horse at a Trump rally in Kansas City, according to the Kansas City Star.
h/t CWBChicago with photo credit