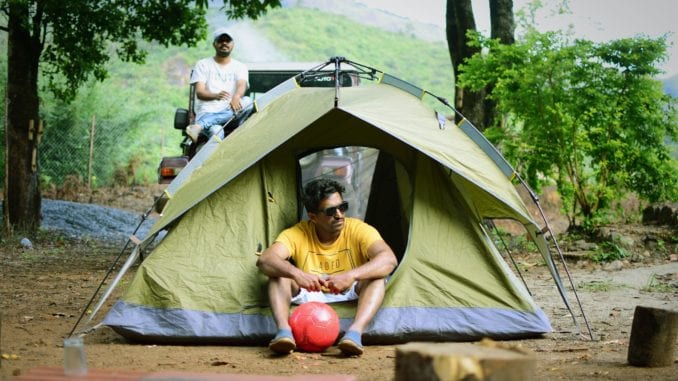 Outdoor Camping Gear
Getting out of town isn't as easy as it used to be. It seems as if the wilderness is the only place that you can be sure to escape pandemic-related anxiety these days. Outdoor camping provides peace of mind, body and soul.
Outdoor camping is certainly on the rise thanks to the recent pandemic. According to statistics from the 2021 North American Camping Report, there was an increase of 6 million people in 2020 who went camping over the previous year. When it comes to first time campers, 6 out of 10 came from diverse or same-sex households. In fact, 61% of same-sex households camp with children.
In a public statement, Toby O'Rourke, the President and CEO of Kampgrounds of America (KOA) celebrated the growing popularity of outdoor camping by stating, "One of the most encouraging trends of this year's data is the continued growth of diverse communities engaging in camping for the first time and becoming even more engaged, like Black campers having the highest intent of all camper sub-groups to purchase an RV this year."
Related: 7 Reasons Men Should Go Camping Right Now
You might be new to camping outdoors but the experience is one that you won't soon forget. Everybody needs some essential gear for camping. You've got your tent, sleeping bag, flashlight, emergency supplies, and maybe even some stellar hiking boots.
Yet, every well-packed rucksack has always got a little extra room for special items that make outdoor camping more comfortable and fun. You don't necessarily need to eat tube grubs and carve out your own shelter from the husk of a dead oak tree to feel like a rugged outdoorsman.  Check out these must-have gear items for your next excursion.
Here are Some of the Best Add-On Items for Outdoor Camping
Winter Ready Slip-On Shoes
One thing that always irks me about camping is what to wear on my feet when I'm inside my tent or sleeping bag. You know…when it's too cold to go barefoot. You wouldn't want to tread on the floor of your tent with the same muddy hiking boots you've been wearing outside. You also might need to dry your socks after a long day on the trails.
You need sutto haku būtsu. That's Japanese for slip-on shoes. Well, SUBU is a Japanese company that makes the best slippers/shoes for camping. They have multiple layers of cushioning on the bottom, a weather-ready Teflon outer coating, and a super soft interior. You can find them on the SUBU website for around $30.00 (give or take).
Campsite Coffee Maker
If you're somewhat new to outdoor camping, then getting a full night's sleep will probably elude you at first. It takes some getting used to the idea of sleeping in the wild. You'll likely wake up with a stiff neck and a desperate need for some coffee.
Since there isn't a Starbucks out on the trail, you're going to need to brew some coffee at the campsite. I want you to take a look at the BruTek Base Camp Coffee Press. It comes in either a 32 or 48 ounce size. Everybody in your group can get a couple of cups with this easy-to-use coffee press. It retails on Amazon for around 60 bucks.
Bush Knife Fit for a Viking
It's easy to figure how a bush knife would come in handy while you're camping outdoors. You can use it for all sorts of things like cutting tree limbs, preparing bait for fishing, and making meals. The problem is that some hunting knives require way more skill and effort than most novice outdoorsmen can display.
That's why I like to take a Viking seax with me while camping outdoors. It's not your average pocketknife; that's for sure. The Viking seax has a heavy head and large surface area for the blade. It gets the job done with less time and effort. Harstad Knives makes really cool Viking seaxes with leather cases from Norway. You can even get a custom order.
All Weather Sleeping Bag
Well, if you've seen one sleeping bag, you've seen 'em all. Right? Not so fast. There's tons of different sleeping bags out there, but some of them are made of materials that are strictly for the summer. Or they might have a special lining on the interior that's best used during the winter. Then, there's the rain to think about.
At least you can take the guesswork out of getting a sleeping bag with the 3 Season Sleeping Bag from Oaskys. It's lightweight, waterproof and can be used in the Spring, Summer or Fall. It has a half circle hood that you can sinch up with a drawstring around your head. Plus, there's a zipper at the bottom so you can stick your feet out and hobble around the campsite without getting out of your bag. You can find the Oaskys sleeping bag on Amazon for around 50 dollars.
Non-Plastic Water Container
The importance of fresh water while camping outdoors can't be overstated. However, you don't want to be the guy who shows up with a 12 ounce plastic bottle. You'll need at least 2 liters of water a day or more and you don't want to leave plastic in the environment.
I was so excited to find the HydraPak Seeker water container. It's a 4 Liter, collapsible water container that's made of nylon. It's highly resistant to tears and has a rugged cap that can take a serious beating without cracking or breaking. It costs less than 30 bucks and comes with a stylish storage bag.
Related: How to Build a Solar Still for Fresh Water While Camping
Bonus Camping Item – Travelers Guitar
After you've gone hiking, fishing, and exploring, there's still plenty of time to do absolutely nothing. Well, why not pluck out some tunes on your guitar? It'll be just like those adventure movies where the warriors lounge around the fire listening to the bard play songs of lost love and better days gone.
The only problem is that guitars can be quite cumbersome when you're camping outdoors. Plus, you don't want to get your favorite instrument all banged up. Instead of bringing your best guitar, try to find a used acoustic guitar from Guitar Center just for occasions like this. Guitar Center have a huge selection, and you can come away with something nice for under a hundred bucks.
It's Time to Get Your Gear for Outdoor Camping
As you can see, this isn't a typical camping gear guide. There wasn't even a single tent. That's because guys pick up obvious stuff like tents and rugged outerwear but often neglect the small things that make camping so amazing.
You're more likely to enjoy camping and keep coming back to the wilderness if you were comfortable and had a great time. When was the last time you cut tree limbs for firewood with a pocketknife? Come on, try out the amazing Viking seax on this list and make light work of your bush work. That way, you'll quickly get back to having fun.
When you're accustomed to smartphones and endless streaming content, the campsite can get a bit boring. So, make some amazing coffee for everyone in your group and play a song on the guitar. That's how you make camping outdoors a memorable experience. It won't matter what kind of tent or flashlight you brought along. What matters most are the memories you walk away with.
Read Next: Start Planning Your Next Outdoor Adventure