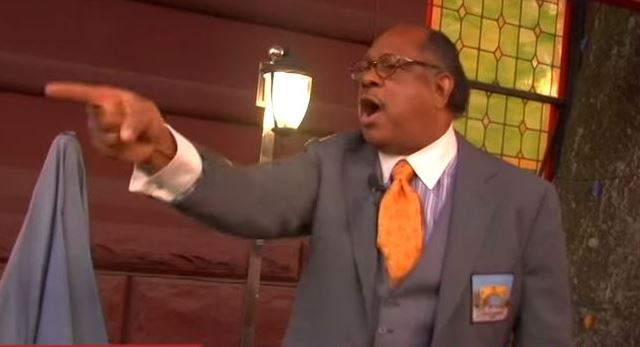 And apparently, flames will be shooting out of your hole too!
Just when you thought you've heard the most homophobic, hate filled rhetoric!
As reported by Greg Hernandez at Gay Star News (a blogger we love!), the chief pastor over at ATLAH World Missionary Church has uploaded a sick and twisted online sermon where he promises "cancer in the butthole" for all gay men.
The Rev. James David Manning, screaming and using the word "butthole" numerous times, vowed to listeners that "God is gonna put cancer in the butthole of every sodomite."
Related: Christian couple takes out huge anti-gay wedding ad
And that's note all! Apparently, flames will be shooting out of our backsides too.
"There will be people all over America walking around with flames coming out of their butthole."
The preacher went on to promise: 'It'll burn and burn and burn – they won't be able to sit down because of the burning in their butthole."
When you thought someone couldn't be more offensive – or nutty – he made sure to add:
"If you thought AIDS was bad, you ain't seen nothing yet!"
Manning, who is 69, continued to become more and more graphic. Just wow!
"Everyone who has a penis injected in his butthole, when his penis comes out, the flames will start burning cause ain't no body gonna stick no penis in that flame. That flame will be an eternal flame coming out of the butthole of every sodomite."
He sure does love talking about buttholes, doesn't he?!
Pastor Manning used ATLAH church as his conduit for hate. The ranting is part of an ongoing web series called The Manning Report.
Last week, Manning caused a stir when his church was disclosure for some unpaid utility bills. He has vowed to "burn a rainbow flag" in celebration of what he views as some type of victory in an ongoing legal fight with New York City.
FYI: ATLAH is the acronym for: All The Land Anointed Holy, which is Manning's name for Harlem.
h/t Greg Hernandez, Gay Star News