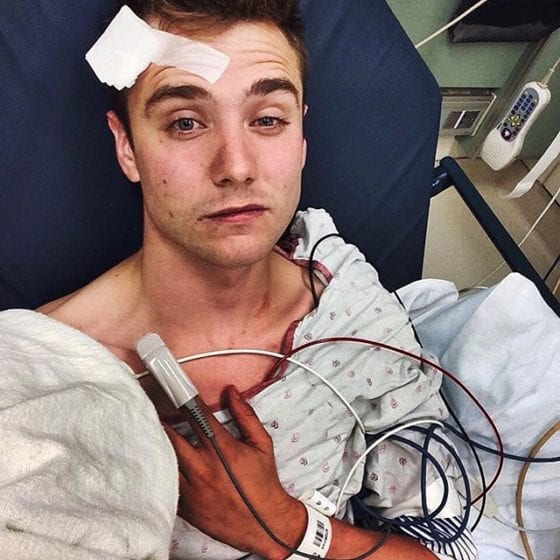 "I was made to feel like a second class citizen."
Calum McSwiggan, a West Hollywood, California YouTube star with a very large LGBTQ following online was brutally beaten up in an attack outside of a gay club. His face smashed with three teeth knocked out, he's in the hospital receiving medical care.
Sadly, he tells his fans that the authorities made his feel like a "second class citizen." As you can see from the picture, he needed emergency care that included stitches to his forehad because of the bashing.
McSwiggan is known for creating videos that directly speak to LGBTQ issues, with a particular focus on the millennial generation.
He wrote the following on his Instagram page:
"Last night was the worst night of my life and I'm really struggling to find the words to talk about it. After one of the most wonderful weekends at VidCon we went out to a gay club to celebrate, and towards the end of the evening I was separated from my friends and beaten up by three guys.

The authorities should have been there to help and protect me but instead they treated me like a second class citizen. With three broken teeth and six stitches in my forehead, I've never felt so terrified to be a gay man in the public eye.

All I can do is thank my wonderful friends @riyadhk, @melaniiemurphy and @douga_ for being with me the whole way. I'd be lost without them. Right now I don't feel that I'm in the right place to talk about this but I will be addressing this fully in the future."
McSwiggan's bashing follows reports of others who have experienced anti-gay attacks and behaviors in recent days during Pride related activities.
As reported by Gay Star News, Michael Volz, a Trans advocate in Seattle, was savagely beaten during a fundraising event for the victims of the Orlando massacre.
And as we reported here at GPB, a young gay couple found themselves kicked out of Uber after sharing a kiss together in the car.
Here is a video of Calum from his Youtube channel:
Photo Credit: Intagram