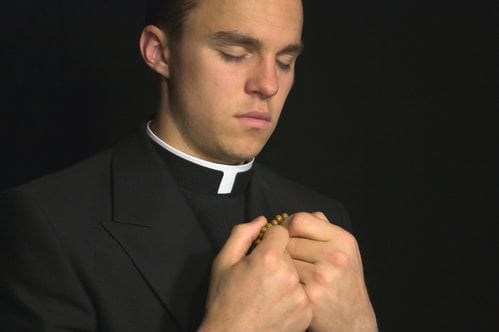 He allegedly hired guys in their 20's to take part in group scenes
In Italy, there appears to be a case where a Roman Catholic priest has been put on suspension for throwing wild gay sex parties. And some of the eye candy showing up at the events were paid local hotties.
Naples Archbishop, Cardinal Crescenzio Sepe, suspended the party-throwing parish priest who presided over the Santa Maria degli Angeli Church for his activities on February 21.
More: Gay for pay really does happen
According to reports, the Father is accused of putting together elaborate gay sex parties. Someone snitched on the priest and tipped off the cardinal, according to a report in Gay Star News.
The suspension came in the form of a letter, sent to the auxiliary bishop of the local diocese.
The alleged behaviors include the priest paying local Italian guys money for taking part in the group fun. Media reports suggest all of the men were in their 20's and were contacted via online means by the clergyman.
via GIPHY
There have already been preliminary internal hearings on the matter and more are to follow. The case now heads towards the ecclesiastical court.
Depending upon the findings, the Church will have to figure out what further actions it will take against the priest. Until a final decision is made, he is no longer able to perform parish functions.
A report in Il Mattino offers confirmation for the sex party claims by one of the 20-something paid attended. Paolo, a 28-year-old man shared that he had sex with a priest in exchange for money, and sometimes with other priests, too.
Paolo states the priest paid him €20, €30 (roughly $30-$40 USD) "every time we met". He also said that he never asked the priest for money, but the priest 'insisted' he should be paid.
—
h/t: Gay Star News