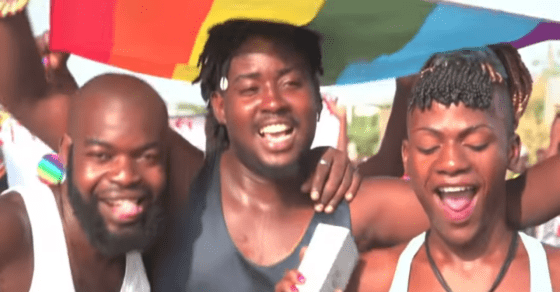 LGBTQ People Celebrated Pride In a Kenyan Refugee Camp
One of the largest refugee camps in the world just had its first ever Pride event.
The Kakuma refugee camp is a large refugee camp in Kenya. It holds about 185,000 refuges and about 100 of them are LGBTQ people.
Many LGBTQ people have left the neighboring country of Uganda because of its anti-gay law. In Uganda, homosexuality is illegal and a crime that warrants a life sentence in prison. Plus, the country is full of violent attacks against LGBTQ people.
In order to spotlight this, Mbazira Moses of the advocacy group Rainbow Flag Kakuma, who's a refugee himself, organized the Pride event.
Almost 200 people participated in the event including Kenyan government officials and representatives of the United Nations. Some of the functions included a pride parade and a fashion show.
Afterwards, Rainbow Flag Kakuma later released a statement thanking all that participated:
"The very first pride event, in Kakuma refugee camp, was fabulous…The event was so colourful, with two LGBTIQ friends and comrades from the USA and England.

"We thank everyone, who has helped out in any capacity to see that our event is a success. May the almighty God bless you all, we love you all, thanks for your good heart and support."
That said, the event didn't finish without trouble.
As Moses told GayStarNews, other refugees in the camp later became violent.
"The event started with a (soccer) match around Kakuma in the mornin."

"It was successfully attended by 180 of the LGBTIQ refugees and they were joined by many other refugees in the camp who didn't know about the event. They initially embraced it but later on proved to be violent."
Thankfully, security that was hired for the event kept the violent onlookers at bay.
Unfortunately though, a lesbian and trans refugee was later attacked and received lacerations to her heel. She's now in the hospital and getting treatment.