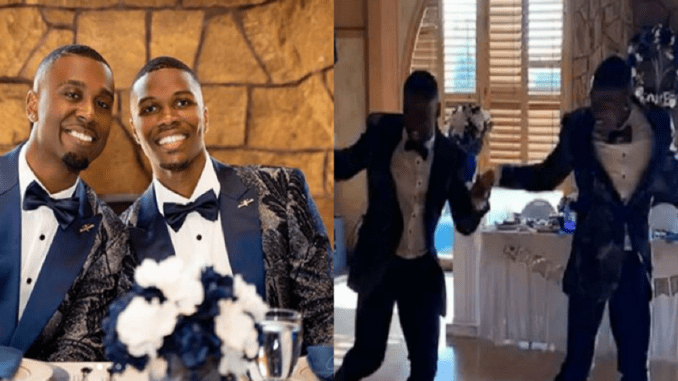 A Wedding Flash Mob?
A gay couple in Oregon is going viral for all the right reasons.
Isaiah and Taylor Green-Jones may have gotten married in Portland, Oregon back in August of this year. But the two are only now catching the attention of the internet. And despite being late to the party, the internet is having a blast.
The reason the couple is now making the rounds on social media pages and news sources is because they held a flash mob during their own wedding. Instead of having a basic slow dance or corny twerk session during their first dance as a married couple, the two organized a dance routine to songs like Beyonce's "Before I Let Go" and Lil Nas X's "Old Town Road."
Talking to Good Morning America, the two shared how this dance routine came to be.
"We'd always wanted to do a dance video, but had never made a routine," said dance cardio teacher Taylor, 35, to GMA.
Taylor then reached out to a friend and fellow dancer to help choreograph the dance. As for why they picked some of the songs they did, it's because of special connections they had with the lyrics, the music, or the musicians. For instance, they chose Lil Nas X's song "because it is sung by an openly gay black male artist," according to Isaiah, 29.
"Reception Moments"Isaiah & Taylor Green-Jones August 4, 2019Norma McKnight L.A. Blackmon Aaron Moore Kevin Petite Junnell Wright Chrissy Pell Thomas J. Flagg#lovewins

Posted by Taylor Green-Jones on Thursday, September 12, 2019
Related: 5 Mistakes People Make When Buying Gay Couples Gifts
At that point, the couple then reached out to a few friends and family to have them learn a move or two. That way, the dance wasn't just about the couple but about the community standing around them.
"Everyone was surprised at the wedding. No one knew, so there was a lot of cheering, a lot of yelling. It was great," Isaiah added.
But not wanting the moment to end, Isaiah decided to upload the video online. But imagine his surprise when it received not only a positive response but its own viral moment.
"Online, there was a lot of support. I think people felt inspired … because this video showed a little piece of light in the midst of a lot of negative energy out there," he shared.
As they told ABC News, the two hope that the dance and the love blossoming from it shows others "the importance of supporting folks and celebrating love, no matter what that looks like."
We've got to hand it to these two grooms-turned-husbands. This routine is stellar from start to finish and we hope you'll all check it out in the videos below. It'll bring a smile to your face.