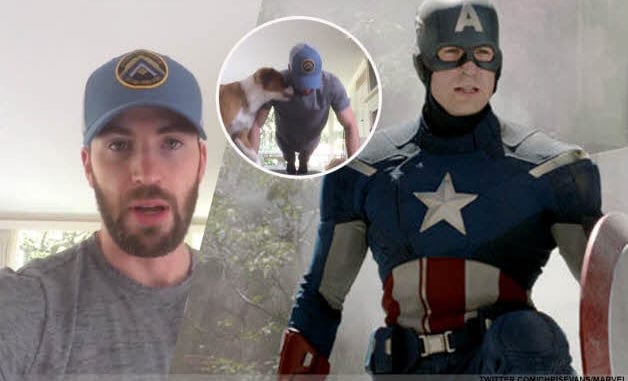 As if Chris Evans couldn't get any cuter, now comes an adorable video that will melt your heart! In order to create awareness around the high rate of suicides among U.S. veterans, the hunky blue eyed actor participated in the 22-push-up challenge.
Similar to the ice bucket challenge, this one asks participants to do 22-push-ups and then nominate two or three people to follow you on social media.
Thank you to all the men and women who serve this country #22PushupChallenge @Renner4Real @AnthonyMackie pic.twitter.com/BbA5j67uaM

— Chris Evans (@ChrisEvans) August 15, 2016
Chris took to Twitter on Monday afternoon to share his vid. You can tell by watching that he's completely committed to reaching his goal – but his dog Dodger thinks its playtime!
Aside from bringing badly needed attention to an important topic, Chris shows us a bit of his private side. And his dog is just ridiculously cute! About 8-push-ups into the challenge, Dodger starts licking on Chris and slobbering all over the place.
At one point, Chris is forced into doing one arm planks while he tries to push Dodger away. And we thought he was invincible as Captain America!
Come on, admit it – don't you wish you were that dog!? We know we were feeling that way. Woof!
Related: Chris Evans is a lot bigger than you think
FYI: The advocacy group Honor, Courage and Commitment started #22kill, the group behind the push-up effort.
Here is an excerpt from their website:
"The #22KILL movement in 2013 after learning about the staggering statistic that an average of 22 veterans are killed by suicide every day. HCC committed to researching and understanding the genesis of this epidemic, and educating the general public on the issue. #22KILL was a platform to raise awareness not just towards veteran suicide, but also to the mental health issues that can lead to suicide. These issues stem primarily from conditions such as PTS and TBI, and struggles of transitioning out of the military."
We'd like to take this opportunity to thank all who currently serve and have served in our armed forces. And thank you Chris Evans (and Dodger) for helping to shine a light on an important issue!
h/t: USA Today