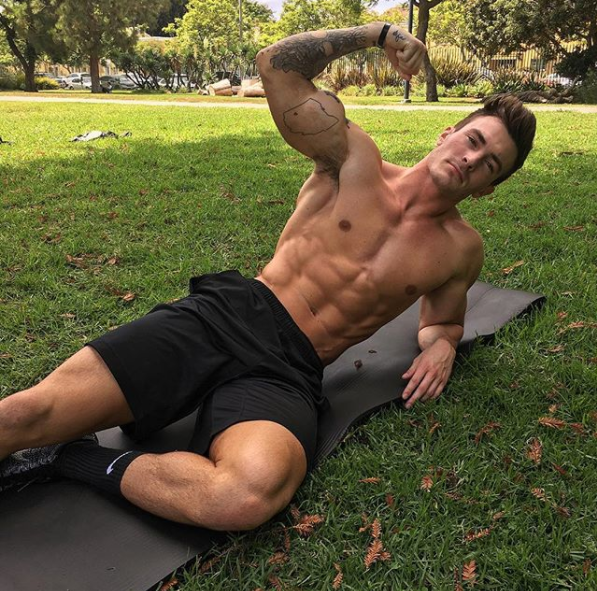 Vince Sant Quick Facts
If you are looking for fitness motivation, you've probably seen bodybuilder Vince Sant on YouTube at some point. With hazel green eyes and a tightly built physique, he's kind of hard to miss.
Recently, I became aware of Vince after a friend showed me his pictures on Instagram. And can I be real with you? I was kind of blown away. The guy has the type of body I've always dreamed of. Maybe you can relate.
But beyond Vince's physical presence, what do you really know about him? I know that I was curious. That's why I decided to do some research and share 7 facts about Vice that might surprise you.
As part of this post, I've also included some pics from his Insta account – plus a YouTube video.
Are you ready? Let's jump right in!
POP FILE: VINCE SANT
Birthday: December 31, 1993
Height: 6 FT 1
Birthplace: Ohio
Zodiac Sign: Capricorn Male
Shoe Size: 11.5 wide
1. Personal trainer
A fact that will shock exactly no one, Vince is a personal trainer. He's certified through the International Sports Sciences Association (ISSA).
2. He's a bestselling author
Vince is a successful author, using his skills to create fitness guides and programs for wellness enthusiasts. You can learn more from the website Diet Spotlight.
3. Has a girlfriend
Apparently, people want to know if Vince has a girlfriend. OK, maybe I wanted to know. Well, the answer is yes. He is dating an Instagram star named Ashley Rossi. The photos are all of Vince's own Insta page.
4. Rumors about men
There have been rumors about Vince that seem to persist. Most center on how he sexually identifies. Part of what fuels these rumors relates to an alleged comment he made on Twitter. Here's the link to Muchfeed. You can check it out for yourself.
5. Not afraid to show off
In looking at Vince's pictures, you can see the guy is not afraid to show off. I'm not just talking about selfies of him curling his biceps. There are other photos on the web.
What kind of pictures? Long story short, we're talking about the stuff of NSFW. I cannot put up a link but I can say a simple Google search will easily reveal what you are looking for.
6. Big social following
One of the things that stood out about Vince, apart from his massive body, are the number of followers he has on social medial. He has over 1.78 million followers on YouTube as of the time of this post. On Insta, it's six hundred thousand. His VSHRED Facebook followers? Try 8 million.
7. Has a series of tats
In ways that are similar to model Dustin McNeer, Vince Sant has a several tattoos. They stem from the top of his right shoulder all the way down to his wrist.
Wrap Up
Vince Sant is super popular in the fitness world and on social media. Part of the reason relates to his ability to inspire others to create fitter, more muscular bods.
Is Vince inspiring to you?