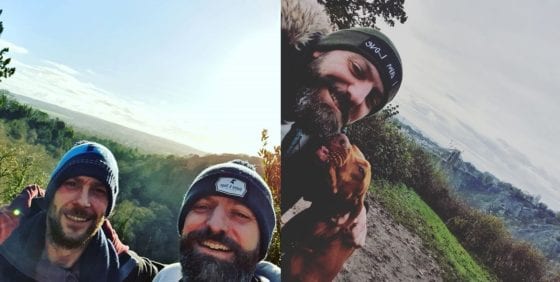 Dog Walking?
This next story is adorable and important.
What is it about man's best friend that lets us take our guards down? Having a pet is great for one's mental health. Our furry friends give us something else to focus on instead of the topics that are bothering us. Then when we do need to face our problems, they act as aids for calming us. After all, there's a reason why many dogs work as therapy aids and mental health stabilizers. And one man in the UK is using that fact to his advantage.
According to My Modern Met, Bristol-resident Rob Osman is no stranger to depression and social anxiety. In fact, he has fought with and lived with both for a large portion of his life. But he found that taking walks with his dog Mali, a Hungarian Vizsla, helped him to live a better life. Because of that experience, he has decided to help other men do the same.
Osman set up Dudes & Dogs in order to get men to interact with dogs and get in touch with their feelings. The group works on two levels. First, it's a group of men who walk their dogs or the dogs of others/their friends. In addition, the group walks also work as group therapy sessions where the men talk about their feelings.
"Picture the scene. It's one of those horrible wet and windy crappy cold days that we do so well in the UK. There's no way in hell I want to go out in this, especially not the way I'm feeling," said Osman to My Modern Met. "But there's the dog, she doesn't care that I feel like crap today. She doesn't care that the weather is rubbish, she just wants to get out and play. With me. Really? Yes really. And you know what, it's been the best therapy I've ever had."
Osman also adds that walking with dogs helps men to get out of the house and embrace both life and the outer world. Imagine just walking around on hiking baths and parks with a group of dogs and other men needing to get things off their shoulders. The crisp air, the green leaves or bushes, the sounds of trickling water and the feel of wind blowing around you. What bliss!
"It is a good way to do so because you do not have to look at each other in the eye and are in an open space," says Osman. "It is at their pace and there is no expectation for them to have to talk— it could be that they just listen the first few times."
Mood-Boosting Buddies
By now, it's no surprise that dogs, and pets in general, are great sources of mood-boosting energy. Many studies have found that pet owners are less likely to suffer from depression. Plus, studies say that playing with a dog can elevate levels of calming serotonin and dopamine, people with pets have lower blood pressure in stressful situations than those without pets, and more.
Having a dog can help men lead a healthy lifestyle for many reasons. They can increase exercise by having to walk them, like Osman's group. Plus, they add companionship to men's lives and help men met other people (people can't help saying hi to dogs as they walk by!). Dogs also reduce anxiety by providing sensory stress relief and they both add structure to owners' lives and create some healthy chaoticness to people's lives too.
Aren't dogs great?!
h/t: My Modern Met