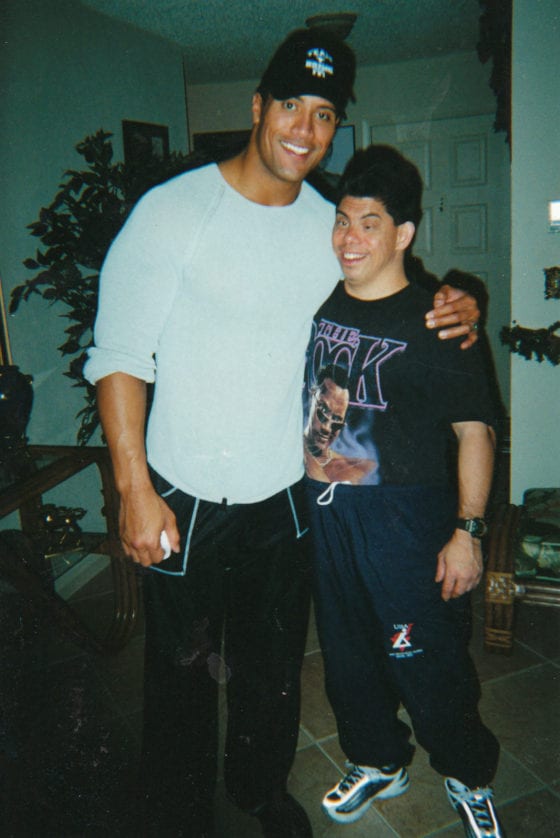 Dwayne Johnson's Life Was Changed By This Friendship
Dwayne "The Rock" Johnson is breaking people's hearts over the internet.
Earlier today, Dwayne Johnson shared a new post on Instagram. The post promotes a new short film depicting the most impactful friendship of his life. The video also shows how it has changed him into the man he is today.
"The Rock's Rock" is a new short film that talks about The Rock's relationship with Milton McBride Rosen. Rosen is a Special Olympian with Down syndrome.
The video debuted on Good Morning America and SportsCenter and will air again through ESPN. In the video, Johnson talks about how he met Milton at the age of six. The film then explains how the two bonded through the Florida gym The Body Shoppe and through exercise. Rosen also helped Johnson's father, Rocky Johnson, give up his addiction to alcohol. Then, don't forget, Rosen went on to become a professional wrestler.
The Rock recounts how his love of fitness and health is due to his early friendship with Milton.
"It's a very special story about a very special human being," The Rock shared in the teaser video on Instagram. "[Milton] has been a lifelong friend, a brother to me. You know how every once in a while in life, if we're lucky enough, we meet these special people, who seem to be touched by angles and have the unique ability to impact lives where ever they go. Meet Milton McBride, The Rock's Rock."
https://www.instagram.com/tv/BwE0uN2hXUT/?utm_source=ig_embed
Related: Watching Sports with Friends Lifts Mood, Says Study
The Short Film & Series
The short film, which was co-produced by ESPN and Seven Bucks Productions, is part of the "Special Olympics: 50 Game Changers." The "Special Olympics: 50 Game Changers" is a year-long series which started in July of last year. It celebrates the 50th Anniversary of the Special Olympics which began in 1968 thanks to Eunice Kennedy Shriver.
Milton McBride Rosen is one of many amazing people living with intellectual disabilities who have shaped sports and the Special Olympics throughout the 50 years of its existence. Many of whom will be spotlighted by this series.
If you don't want to wait to watch the short film on ESPN, you can watch it through YouTube in the video below.