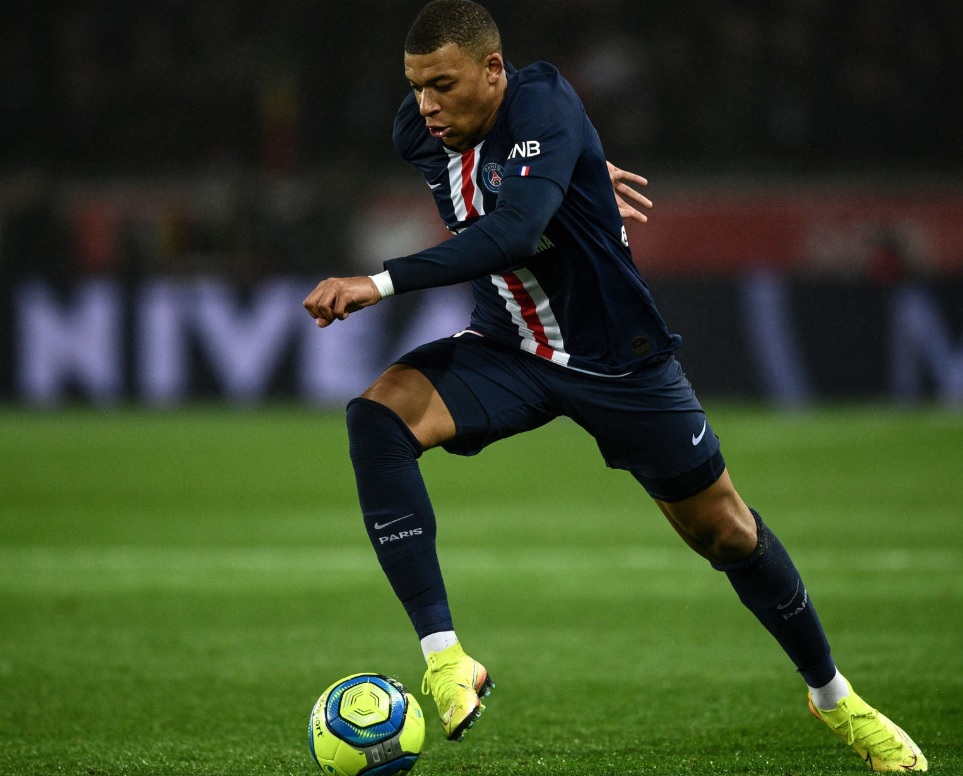 Killian Mbappe Fun Facts
EA Sports recently announced that Killian Mbappe will be the new cover athlete for FIFA 2021. Mbappe is a young superstar and he's widely regarded as one of the fastest athletes in all of sports. He made his soccer debut at 16 and was the only other teenager besides Pele to score a goal in the World Cup.
Killian Mbappe's star is still on the rise. He's sure to be mentioned in the same breath with football greats like Ronaldo, Messi and Xavi. So, here are 10 facts that you should know about Killian Mbappe.
LET'S GO 🔴🔵🙏🏽…. pic.twitter.com/GG9z9UoKo3

— Kylian Mbappé (@KMbappe) July 31, 2020
Pop File: Killian Mbappe
Birthday: December 20, 1998
Height: 5 ft. 8 inches
Eye Color: Dark Brown
Zodiac: Sagittarius
Salary: 17.5 million Euros
Killain Mbappe's speed, athleticism, and dribbling abilities are simply amazing. To see some of his best moments, check out this compilation video.
1. Killian idolizes Cristiano Ronaldo
Just like any other kid who loves soccer, Killain Mbappe decorated his bedroom walls with posters of his favorite player Cristiano Ronaldo. Perhaps it was just a dream that he would one day be playing as a professional, too.
Related: 7 facts on Chuku Modu revealed 
Killian Mbappe mimics Ronaldo's style on the field and got the chance to meet his idol in person. The love and respect go both ways with these two phenomenal players. In a promotional video published by Marca, Cristiano Ronaldo said "Mbappe is the future and the present. He's a fantastic player, very fast, and he will be the future."
2. Mbappe is the third most expensive footballer in history
The act of trading athletes costs football clubs a lot of money. Only twice in the history of the game has a club spent more than Paris Saint-Germain spent on Killian Mbappe. In a record-breaking 121.5 million pound deal, Paris Saint-Germain acquired Killain Mbappe from Monaco in 2017.
The deal was massive, but soccer enthusiasts largely supported the exorbitant amount. That's because Mbappe is such a rare talent. Mbappe was instrumental in Monaco winning the Ligue 1 title in 2017. After transferring clubs, Mbappe helped Paris win 2 Ligue 1 titles and scored over 40 goals.
3. Killian Mbappe is faster than Usain Bolt
When Mbappe is on a full sprint there is little that anyone can do to stop him. He's just too fast. How fast is he though? Well, his insane sprinting ability has been raising eyebrows for quite a while.
Back in 2019, Mbappe scored 3 goals against Monaco, his former team. During the run-up to his first goal, Mbappe was clocked at 38kph (23.61mph). If you're wondering how fast that is, Usain Bolt ran a 23.35mph (37.58kph) 100 meter sprint when he set the world record in 2009.
So, its arguable that Killian Mbappe is faster than Usain Bolt, the world record holder for land speed. Mbappe was also scoring a goal at the same time. (So, beat that, Bolt!) To see it for yourself, check out this video.
4. Mbappe is a World Cup Winner
As we mentioned earlier, Mbappe is the second youngest football player to score a goal in a World Cup. He was just 19 years old. Only Pele has beat Mbappe to the punch on that statistic, but at least, Killian's in good company.
Mbappe led France to victory over Croatia in the 2018 World Cup final by scoring 4 goals. He was awarded the FIFA World Cup Best Young Player award for his exemplary performance. Mbappe faced off against Lionel Messi in that tournament and at the end of it all, the two embraced.
5. Killian Mbappe Has a Heart of Gold
On the heels of that World Cup victory in 2018, Killian Mbappe donated his entire $500,000 World Cup payments to charity. It's not unheard of for football players to donate their international winnings, but it was a surprising act of humility for someone as young as Mbappe.
In an interview with TIME magazine, Mbappe said "I gave the money to the charity where I am a sponsor [Mbappé sponsors the French charity Premiers de Cordée] because being handicapped is something difficult. Showing them that they can do sports like everyone it is something close to my heart."
6. Mbappe Started His Professional Soccer Career Very Young
At the age of 6 he was recognized as an outstanding player in France. That meant that he was in the limelight from a very young age and missed out on a traditional childhood. He was focused and driven, almost to the point of obsession. His father was his coach, just like a lot of kids, but his father later became his manager, too.
Mbappe was just 12 years old when he started getting the attention of professional football clubs. He turned down early deals from Liverpool, Manchester City, and Real Madrid. Killian signed to Monaco when he was just 14 years old. He took to the field at the age of 16.
7. Mbappe Has a Huge Social Media
As a young sports star Killian Mbappe has a large online following. He has 4.5 million followers on Twitter. He posts regularly every day or so with updates about his training and the occasional glimpse into his personal life.
Related: 50 super sexy black men
Mbappe has 42 million followers on Instagram, making him one of the most popular celebrity athletes on the platform. To give you a bit of perspective, Patrick Mahomes has 3.6 million and Lebron James has 69 million followers. So, Killian Mbappe still has a way to go to obtain the Instagram crown.
I LOVE THIS FEELING 🏆 @PSG_inside pic.twitter.com/y2i3x7Z4xF

— Kylian Mbappé (@KMbappe) July 24, 2020
Wrap Up
Killian Mbappe is an awesome footballer who ahs already dedicated his life to the sport. He started out when he was just a kid and rose to the pinnacle of the sport before he was even twenty years old.
You would think that'd make him an ego maniac, but Mbappe is incredibly humble. He regularly donates his time and money to charity. He's also appreciative of all the legends who came before him.
We'll certainly keep our eye on this rising star. Be sure to pick up your copy of FIFA 2021 to see him on the cover. EA Sports will release FIFA 2021 on October 9th, 2020 on PS4, Xbox One, and PC.