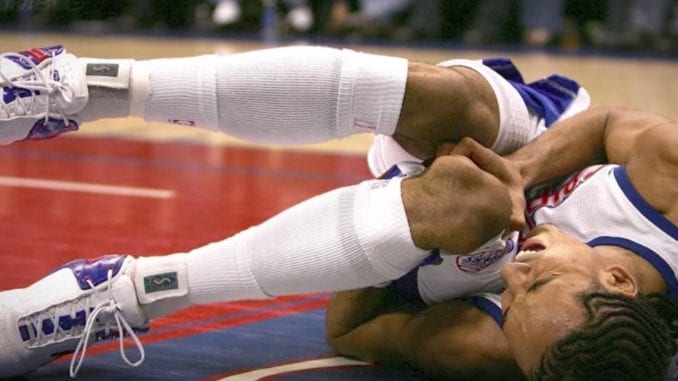 Sports injuries can be downright ugly!
As video of gymnast Samantha Cerio breaking both her legs circulates the Internet, we are once again reminded of the dangers of athletic competition.
After successful surgery to fix her injuries, Cerio announced she is retiring from the sport, which really isn't much of a surprise considering what she is going through.
Sprains and bruises are an almost everyday occurrence in sports, but there are times when the injuries are gruesome and change the course of an athlete's career.
1. Joe Theismann's Compound Leg Fracture
Probably one of the most famous and cringe inducing injuries in the history of televised sports, this one was captured live on television during Monday Night Football in 1985.
Washington quarterback Joe Theismann was sacked by New York Giant Lawrence Taylor and the tackle snapped Theisman's leg in several places. The moment was infamously caught on camera from multiple angles.
"The pain was unbelievable, it snapped like a breadstick. It sounded like two muzzled gunshots off my left shoulder. Pow, pow!" Theismann recalled during a 2005 interview.
Related: Men's Vasectomy cakes are the new thing!
Theismann explained that after his endorphins kicked in, he felt no further pain during the initial incident.
The injury ended Theismann's career and would go on to top a number of sports injuries lists including being voted by sports fans as the NFL's "Most Shocking Moment in History."
2. Clint Malarchuk's Throat Sliced
In a 1989 hockey game, Buffalo Sabre goalie Clint Malarchuk was defending the goal against the St. Louis Blues while players tussled in front of him.
During the melee, the skate blade of one of Malarchuk's teammates slashed across the goalie's throat, severing his carotid artery.
Malarchuk began to bleed profusely, his blood covering the ice. The sight caused a number of fans to faint, two spectators were reported to have had heart attacks and three players vomited on the ice.
"All I wanted to do was get off the ice," said Malarchuk. "My mother was watching the game on TV, and I didn't want her to see me die." Truly believing it was the end, Malarchuk asked for a priest.
After losing a liter and a half of blood, Malarchuk received 300 stiches to repair the gaping six-inch injury.
Miraculously, he was back out on the ice in less than two weeks.
3. Akil Mitchell's Eye Pops Out
Eye pokes are a common injury in basketball, but while going up for a rebound playing for the New Zealand Breakers, forward Akil Mitchell received a nasty surprise.
During the attempt to get the ball, an opponent's finger had slipped into Mitchell's eye socket and dislodged his eye.
"With the palm of my hand I felt my eyeball on the side of my face," Mitchell recalled later. "I could still see out of the eye."
Mitchell was given painkillers and whisked away in an ambulance. He made a full recovery and went on the play for the NBA developmental league and other organizations.
4. Stephen Smith's Ear Tear
Ear injuries during boxing matches are nothing new. Aside from the famous Mike Tyson biting incident, ears are often swollen, yanked and receive other trauma.
However, during the 2017 Stephen Smith and Francisco Vargas bout in Las Vegas, Smith's left ear was torn so badly officials halted the fight while it was being broadcast live on HBO.
The two fighters butted heads and got tied up and that's apparently where Smith's ear was torn and hanging from his head. The bout was quickly stopped and Smith was whisked away for treatment.
Smith received stitches and further treatment. While he still sports the disfigured ear and has not fought since that night, Smith is currently working toward his comeback.
5. Andranik Karapetyan
During the 2016 Summer Olympics in Rio, weightlifter Andranik Karapetyan was on the hunt for a medal after winning championships in other competitions around the world.
As he attempted to lift 429 pounds in the clean and jerk competition, Karapetyan's elbow extended, forcing his arm to extend in a horrifying and painful angle. The strain was quickly too much and he blew out his elbow.
As trainers attended to the inured Karapetyan, Olympic spectators looked away in horror.
The 2016 Rio Olympics had its fair share of major injuries including gymnast Samir Ait Said breaking a leg during a routine. Several cyclists were also seriously hurt, with injuries ranging from broken collarbones to fractured vertebrae.
6. Jeremy Lane's Injuries During Super Bowl XLIX
Super Bowl XLIX should have been the pinnacle of an amazing season for Seattle Seahawk cornerback Jeremy Lane. Instead, it was one of the worst injuries ever seen during the Super Bowl.
After intercepting a pass by New England Patriot quarterback Tom Brady, Lane was tackled as he ran back the ball. Trying to break his fall, Lane instead broke his arm. Ironically, this was the first interception of his career.
Unbeknownst to Lane, he had also torn his ACL. A month later while shopping in a local grocery store, his knee buckled and the injury was discovered.
Lane would also suffer an infection in the arm and would need several surgeries. He was later released by the Seahawks.
7. Sébastien Courcelles Face Slashed
Sebastian Courcelles, captain of the minor-league hockey team the Thetford Mines Isothermic, was hit by an opponent during the game and fell to the ice. It was a common occurrence for players that happens dozens of times during a game.
However, when Courcelles went down, he sliced his face on the player's skate, opening and enormous gash on his face.
Courcelles' own brother raced to his side to attend to the wound.
"He shouted to put pressure on my cheek," Courcelles recalled. "He then said to call the ambulance… at that time, I told myself that it must not be pretty."
Courcelles' injury required four hours of surgery and left the player with a large prominent scar on left cheek. He also suffered from nerve damage.
The strong willed Courcelles tried to get back out on the ice to play within the week, but was stopped by his wife who insisted he needed longer to heal.
8. Salim Sdiri Speared By Javelin
In 2007, French long jumper Salim Sdiri was in the warm up area at the Golden League meet in Rome, Italy. Unbeknownst to him, a javelin thrower had just unleashed a wild throw that was heading straight for Sdiri.
The javelin struck Sdiri in the back and he fell to the ground. Initially doctors believed that the javelin had missed any vital organs and he was released from the hospital.
However, two days later, Sdiri was rushed back to the hospital. The initial prognosis was incorrect. The javelin had actually torn part of his kidney and put a hole in the jumper's liver.
Sdiri required long term rehabilitation but eventually returned to competition, including several wins and record setting jumps.